It's summer time and the living's easy.
Or is it?
For many people, summer looks just like the rest of the year. Same schedule. Same commute. Same cubicle. Even for entrepreneurs, summer can bring the same deadlines and to-do lists as any other season.
Remember those impossibly long summers as a child, when making mud pies, reading novels, and riding bikes up and down the street filled every afternoon? Even with a job and mortgage, you can bring a little slow living back into your life. Here's your ultimate lazy summer living checklist.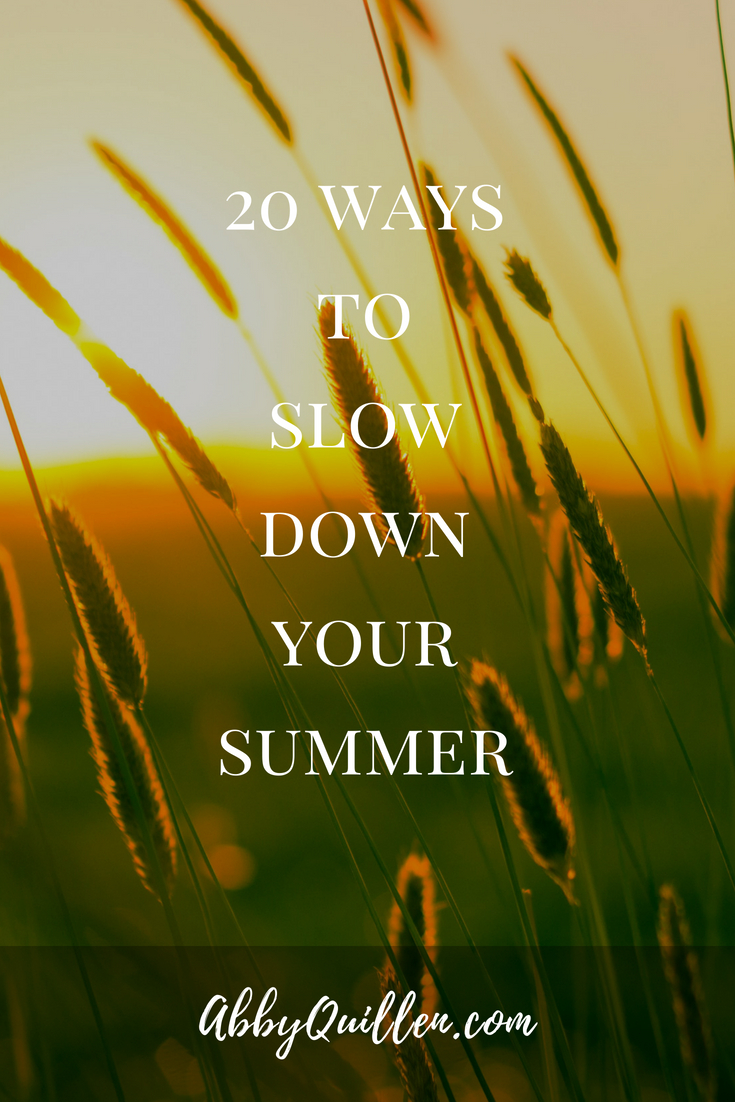 Exit the Fast Lane

Pencil in down time this summer for these leisurely activities:
1. Walk barefoot
Wake your feet up this summer by stripping off your shoes and socks and walking barefoot as much as possible. Walking barefoot not only feels great; it improves your balance and posture and may prevent shin splints, plantar fasciitis, stress fractures, and other injuries. Each of your feet contains 20,000 nerve endings, and grass, sand, stones, and water are all sensory delights for your feet. (Learn more about the benefits of going barefoot and discover how to turn your yard into a barefoot garden here.)
2. Go on a picnic
Parenting pro tip: "Let's go on a picnic!" is sure to garner more excitement from toddlers and preschoolers than "Let's go for a walk!" That's how I ended up turning nearly every lunch into a picnic for several years in my quest to get my boys to walk with me.  Grab a blanket, pack some sandwiches or Mason-jar meals, and head to a scenic spot or nearby park. Pinterest-worthy picnic food not required.
3. Take a nap
How can you enjoy cool early summer mornings and late evenings, skip the sweltering afternoon heat, and get enough sleep in the process? Meet the summer nap a.k.a siesta. Aim to enjoy at least a few of these summer delights, especially on days you know you'll be staying up later than usual. A nap can interfere with nighttime sleep if you take it too late in the day. But it can also boost alertness and improve work performance. I say, indulge every once in a while!
4. Sleep with the windows open
If you live in a safe, quiet neighborhood, nothing beats sleeping with a soft breeze and the sound of crickets outside. And as a bonus, you may sleep better.
5. Watch a meteor shower
Mark your calendars, the Perseid meteor shower peaks from August 11 to August 13. Depending on where you live and how dark it is, you'll see a falling star every minute. Don't forget to make some wishes!
6. Go camping
Spending time away from man-made lights resets the body's circadian rhythm and improves quality of sleep, according to recent research. That may partly explain why camping can feel so restorative. Find a beautiful spot and leave the demands of your busy life for a few days.
7. Read a summer novel
If your nightstand's stacked with business or personal development tomes, put them aside for a few weeks and indulge in some fun summer reading. Yes, reading can be an avenue to learning and growth. And it can also help you bring magic, imagination, and leisure back into your life. Looking for some indulgent summer reads? Check out this list.
8. Play a yard game
Nothing says summer like a rousing game of horseshoes, croquet, bocce ball, ladder toss, cornhole, badminton, or lawn bowling. Frisbee, softball, or kickball are also sure crowd-pleasers.
9. Make iced tea or coffee

Icy beverages are some of the true delights of the hottest months. But when you add ice to a hot beverage, you end up with a watered-down, weak drink. Up your iced tea and coffee game this summer by making cold-water extract. To make cold-water iced tea, add 3 to 4 tea bags per quart of cold water. Leave at room temperature for an hour and then refrigerate overnight. To make cold-water coffee, combine one cup of finely ground coffee beans with 4 cups of water, and refrigerate overnight. Serve over ice and enjoy.
10. Swim in a waterhole
Want to take a dip in a natural paradise? No matter where you live, chances are there's a beautiful, secluded, natural swimming area nearby. Go to swimminghole.org to find one, and follow the common-sense precautions on the website to stay safe and healthy while you swim.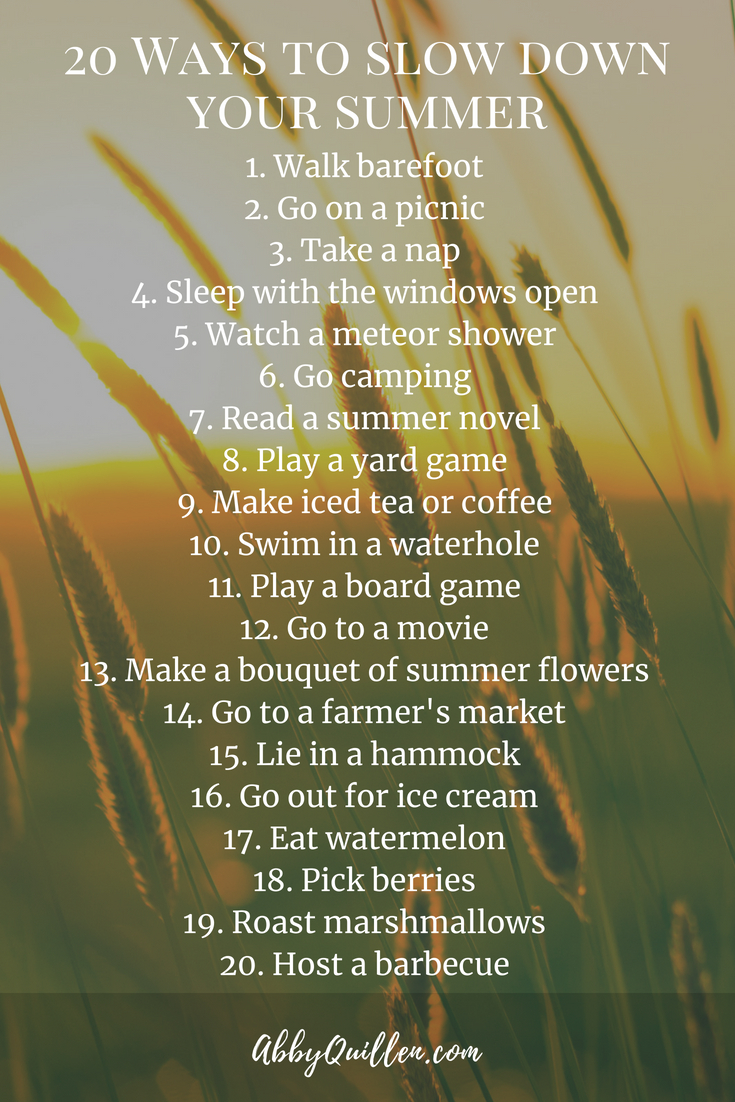 11. Play a board game
When's the last time you wiled away an afternoon over a game of Scrabble or checkers? If you can't remember, bring on the lemonade and board games. Our 10-year-old loves board games, so we play a lot of them. Some of our current favorites include the Ticket to Ride games, Battleship, and Clue. If you're children fight when board games come out, try a cooperative board game, where everyone works together and everyone wins. My kids love Wildcraft: An Herbal Adventure Game, and they've learned a lot about plants while playing it. Go here for a list of other cooperative board games.
12. Go to a movie
Whether you're watching a summer blockbuster or an art film, the movie theater is the perfect place to spend a sweltering summer afternoon.
13. Make a bouquet of summer flowers
Bring the color of summer indoors by gathering sunflowers, daisies, coneflowers, dahlias, zinnias, or whatever blooms are growing near you..
14. Go to a farmer's market
Stock up on summer's bounty and support local farmers, then whip together a fresh, flavorful (and preferably simple) summer feast.
15. Lie in a hammock
Forget your to-do list and kick back in your backyard hammock. Want to combine a nap and hammock session? Follow these tips for ultimate comfort: Make sure the hammock isn't hung too tightly, position yourself diagonally, and arrange a pillow under your head.
16. Go out for ice cream
It's summer. What better excuse to try one of the season's new ice cream flavors, such as banana peanut butter chip, blackberry hibiscus, or brown butter bourbon truffle? Or go with classic vanilla, chocolate, or strawberry.
17. Eat watermelon
Watermelon is a summer superstar. It not only tastes delicious. It's full of antioxidants and other nutrients and it's one of the most hydrating summer fruits. Plus, you could always hold a seed-spitting competition to wile away some boredom.
18. Pick berries
Whether you find them on the side of a mountain trail or growing in your backyard, enjoy summer's berries while you can. Come January, you'll miss nature's sweet treats … unless you head to a you-pick farm and pick enough to store in your freezer. Find a farm at pickyourown.org.
19. Roast marshmallows
Remember perfectly toasted, caramelized marshmallows from childhood camping trips? Me neither. Mine usually turned out to be deflated, charred, and shriveled messes. But now that we're adults with real culinary skills, we can almost certainly do better — or at least have fun trying. Don't forget to pack graham crackers and chocolate bars.
20. Host a barbecue
Fire up the barbecue and move the party outside. Remember, the point here is leisure. You have my permission to skip the Martha Stewart-worthy menu and table decor and aim for a relaxed grill-and-chill.
Mission: Enjoy Summer
You may never experience summer the way you did as a child. Mud pies and lemonade stands probably don't hold the same appeal these days. But that doesn't mean summer can't bring a little magic. Before the season slips away, take back your time for some good old-fashioned summer leisure.