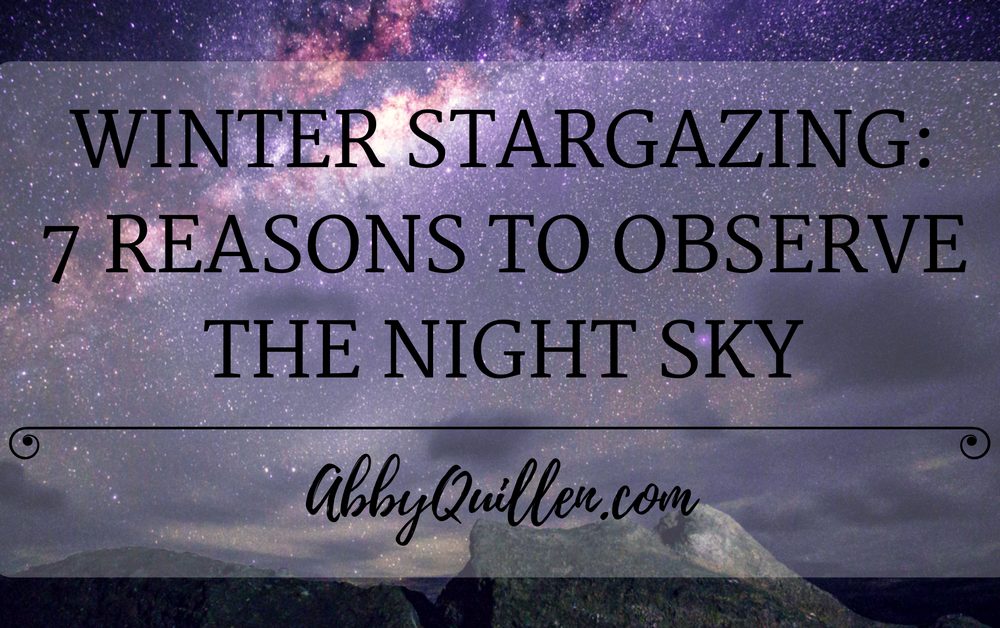 My husband Aaron was a devoted viewer of Jack Horkheimer's Star Hustler (now Stargazer) when he was growing up in the eighties. Aaron still knows his way around the night sky. Whenever we're out after dark, he points out stars and planets and entertains me with stories about the constellations. I enjoy it. Moreover, I've come to believe that stargazing is good for people, especially in the wintertime.
Why?
Because observing the night sky:
1. Gives us perspective.
Staring up at the infinite universe can make one feel small and one's problems seem downright minuscule. Sierra Tuscon, a drug rehab center, in Arizona, even incorporates star-gazing into recovery programs. Leslie Davis explains on their website:
For those with mood disorders, the stars are something positive and inspiring to focus on. For people in treatment for addiction, the night sky takes them outside themselves, helps them to feel connected, and gives them a sense of purpose
2. Connects us with nature.
It's hard not to be in awe of the natural world when examining the night sky. And being aware of the moon's cycles connects us with nature's rhythms.
3. Unites us with people all over the world.
We all live on the same Earth and look at the same sky, but it can be easy to forget that when we listen to the news and focus on conflicts around the world.
4. Shows us how life was through most of human history.
Winter was a long, dark, and often scary time for people before Thomas Edison invented the long-lasting incandescent light bulb in 1879. Spending time outside at night shows us how our forebears lived in a way that history textbooks can't.
5. Gets us outside.
Let's face it, many of us would stay inside, next to the fire, all winter long if we had the choice. Stargazing is an excellent reason to get outside and prevent that winter ailment that most of us are more than a little familiar with – cabin fever.
6. Is easy, inexpensive, and requires no equipment.
And there's plenty of room to learn and grow. You can join your local astronomy club, save up for a telescope, or pour over Carl Sagan tomes if you enjoy it.
And…
7. The winter nights are long.
The sun is rising around 7 A.M. and setting around 4:30 in most of the U.S. in December, leaving ample time for stargazing. Why not make the most of all the darkness?
Finding the perfect spot
If you're lucky, you can turn off all the lights in your house and head out to your backyard or balcony to stargaze.
But maybe you live where city lights block out your view of the stars? Consider contacting your local astronomy club. They may hold free monthly dark-sky meet-ups with amateur astronomers on hand to point out constellations. They also may provide telescopes. Or your city might have an observatory that's open to the public.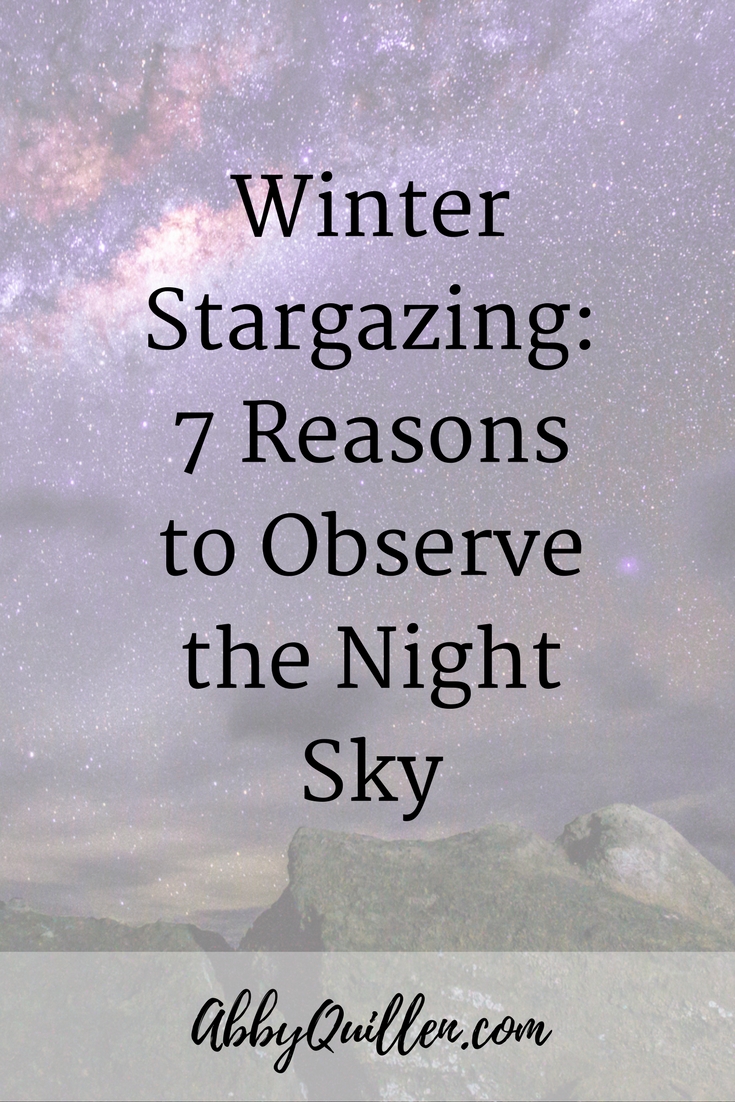 Tips for winter stargazing:
Get a good star-gazing field guide.
Go to Night Sky Planner to get viewing condition forecasts for your area.
Bring along a sky chart. (You can download and print a free one each month here or download a stargazing app for your phone).
Bundle up.
Bring blankets, binoculars, snacks, and a thermos of hot chocolate or tea.
Look for winter constellations – Orion, Taurus, Gemini, Cassiopeia, Pegasus, etc – and bright stars – Polaris, Betelgeuse, and Rigel.
Learn and tell stories about the constellations.
If using a stargazing app, look for a red filter feature. It takes the eyes up to 20 minutes to adjust to the dark. And just one burst of light can ruin night vision. But red light is not as damaging to night vision.
If you need to bring a flashlight, cover it with red filter film (or automotive brake light repair tape).
If the weather's clear in your area, December is an excellent month for stargazing because it's when the Gemenid Meteor shower is visible. It usually peaks mid-month.
J. Kelly Beatty writes of the Gemenid shower in Sky and Telescope:
With an average of 100 meteors per hour radiating from near the bright star Castor, this end-of-the-calendar shower is usually one of the year's best. … Geminid meteors come from 3200 Phaethon, an asteroid discovered in 1983.
If you like this post, check out more of my popular posts about exploring nature:
(Photograph of the night sky taken by By Anne Dirkse (www.annedirkse.com), available via Wikipidia Commons)
Do you like to stargaze? Do you have any tips, or are there resources you recommend?
Save
Save