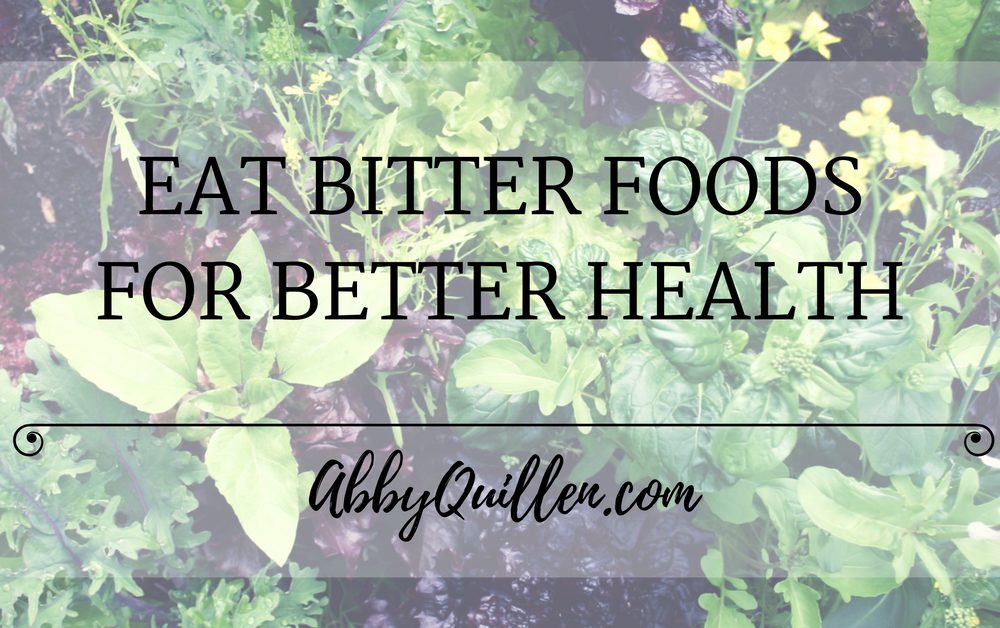 Your mouth probably puckers at the thought of eating something bitter. But according to many experts, including clinical herbalist Guido Masé and integrative physician Tiearona Low Dog, a small dose of bitter can prevent and cure a litany of complaints.
Why do we need bitter foods?
Masé explains that plants developed bitter compounds to stop mammals from eating them. Then mammals developed detoxification systems, i.e. our livers, to deal with the bitter compounds. So bitters are the reason we have a liver, and it doesn't work right when we don't eat them.
Masé and Low Dog say ingesting more bitters, particularly before we eat, can:
When there's no bitter flavor in our food, Masé says we run the risk of poor digestion. "We see fat and cholesterol synthesis problems in the liver. … We see food passing untouched through the digestive system." He recommends that instead of trying to "restrict, restrict and remove, remove" for concerns like toxicity, chronic inflammation, liver dysfunction, and digestive complaints and sensitivity, we "reincorporate bitterness." When we activate our taste buds with the bitter flavor before a meal, the pancreas secretes enzymes, the liver secretes bile, and the valves through the compartments of the gastrointestinal tract work better. "As a result, the drama of incomplete digestion is really tempered."
The mouth is not the only thing that puckers when we eat bitters. According to Masé, the valve at the bottom of the esophagus also scrunches up, keeping acid in place.
Eliminate food allergies and excema in adults and children
"I've seen big changes in the skin when we focus on enhancing digestion and restoring the microflora in the gut," writes Low Dog in her book Healthy at Home. She prescribes children's bitters for kids with food allergies, to be taken a half an hour or so before dinner.  She also recommends bitters for adults with seasonal and environmental allergies.
According to Traditional Chinese Medicine, we shouldn't seek to eliminate the sweet taste from our diet, but to balance all five tastes. In the same vein, Masé is convinced that ingesting more bitters is the solution to sugar addiction. "Just make sure you get a little bit of bitter every day and you'll find that your relationship with sugar is a whole lot easier." He carries a tincture of bitters in his car and takes a little bit before he goes to the grocery store. That way, he insists, it's easier for him to keep the chips and sweets out of his basket.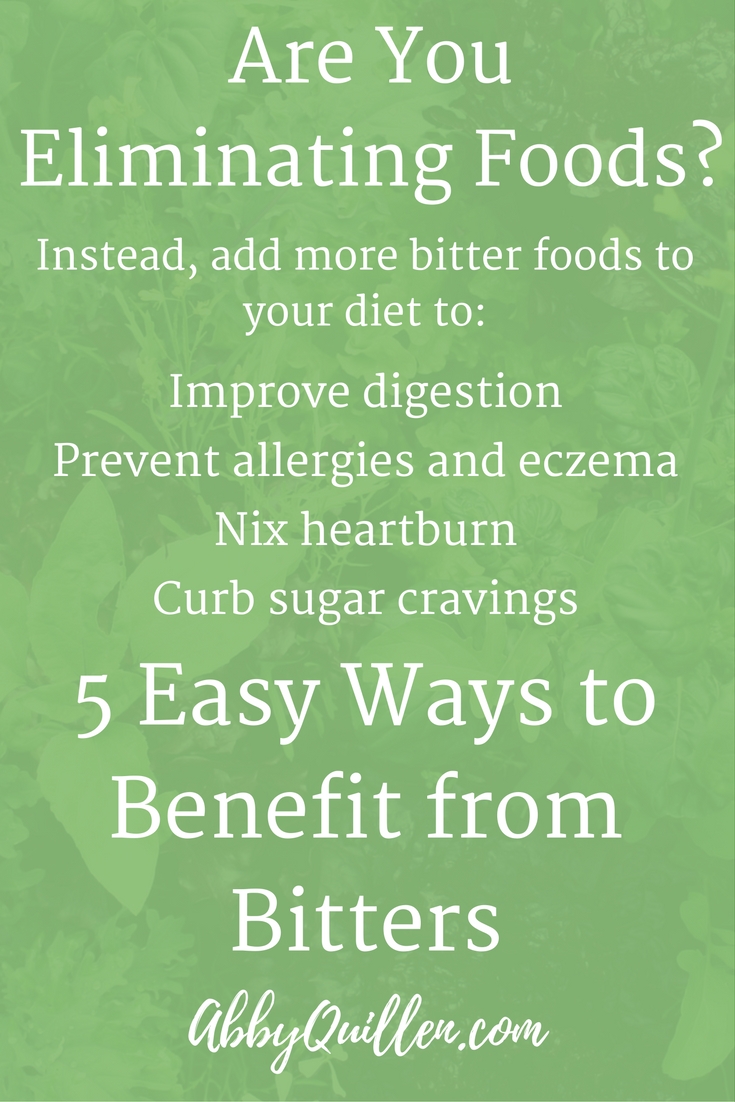 5 ways to ingest more bitters:
One of my favorite foods — dandelion — is a bitter. You can learn more about how awesome dandelion is in my (all-time most popular post) Dandelions are Superfoods. Chicory, arugula, radicchio, escarole, turnip greens, mustard greens, watercress, endive, and other bitter greens also make delicious pre-dinner salads.
Coffee is probably most people's favorite bitter food, and it's been shown to be amazing for the liver. (But it's the bitter taste that's healing, so don't sweeten it up too much!) Dandelion root, burdock, milk thistle, hops, gentian and other bitter herbs make excellent pre-meal teas.
Urban Moonshine, Herb Pharm, and other companies make bitter tinctures and tonics that you can take with a glass of water as a quick before meal ritual.
Dark chocolate is a delicious way to add some bitterness to your diet, and it was featured in this week's People's Pharmacy because of its many other health benefits.
Bitters are a common bar ingredient. Look for bitters at your grocery store and learn how to mix up a Manhattan, Rob Roy or Old-fashioned.
Are you eliminating foods? Instead, try adding more bitter foods to your diet.
Click To Tweet
If you liked this post, you may enjoy these related posts:
Do you like bitter foods and beverages? Have they helped you solve any health issues? I'd love to hear about it in the comments.
Save
Save
Save
Save
Save
Save
Save
Save