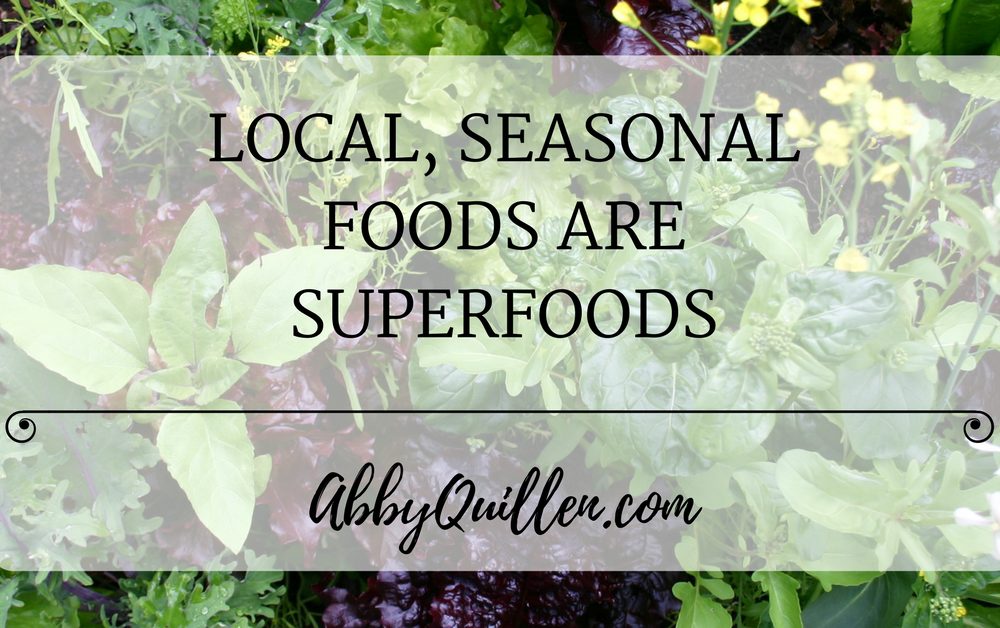 What should you eat for optimal health? That question has inspired wildly contradictory dietary trends from Low-fat to Raw Vegan to Paleo to Keto, each backed by health claims and scientific studies. However, nobody will ever discover a one-size-fits-all optimal human diet because we didn't evolve to eat the same thing. Throughout most of history, whether humans hunted and gathered, raised animals, or cultivated crops, they ate a menu of local foods that shifted with the seasons. All traditional diets emphasized seasonal eating.
In the past hundred years, the industrialization of agriculture and the invention of refrigeration radically remade our diets. Today, 70 percent of the American diet is processed, and the fresh foods in your grocery store were likely imported from all over the globe. However, locavore, Farm to Table, and Farm to School movements are flourishing for good reason. Exotic superfoods may be trendy, but the foods grown near you are usually the freshest, most nutritious, healthiest, and most flavorful foods you can eat. Even a modest change to eating more local and seasonal foods can bring health, environmental, and culinary benefits.
Eating seasonally may require a mindset shift and some effort, because most modern Americans weren't raised doing it. But the benefits are worthwhile! Keep reading to learn why local, seasonal foods are superfoods and discover ways to shift to a more seasonal diet.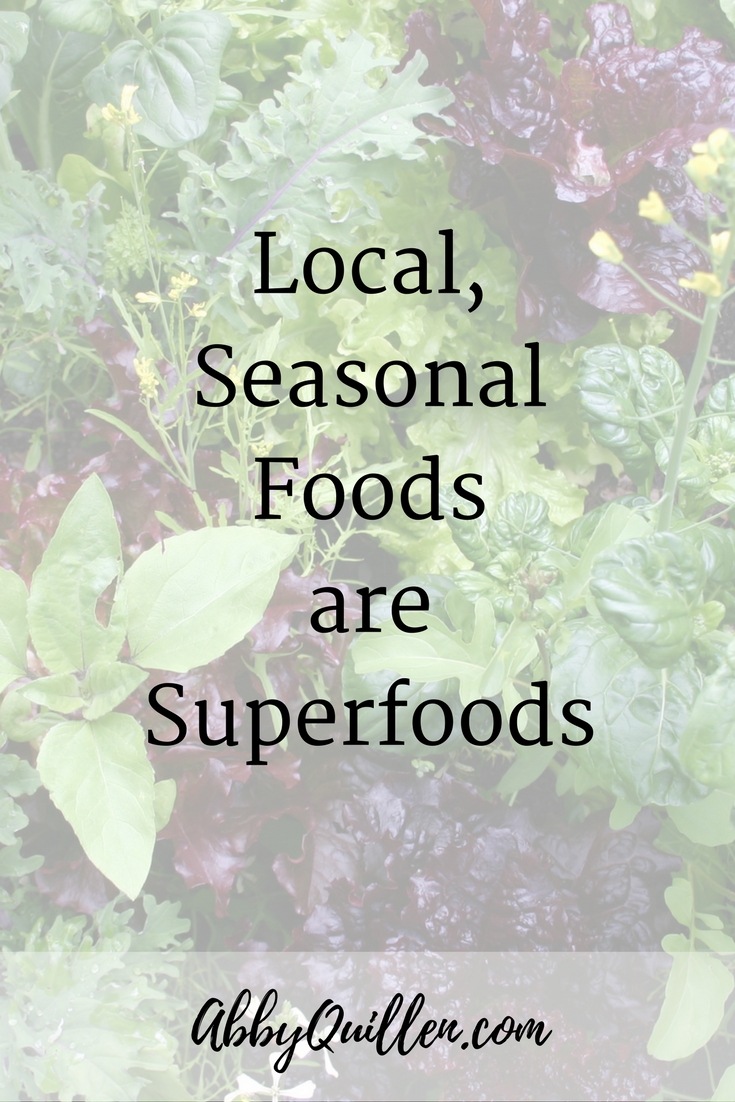 The Case of the Missing Nutrients
The industrial food system has brought convenience, but the price tag is high, both for human health and the health of our ecosystems. First of all, we've lost an incredible amount of food diversity. In 1903, 408 types of peas were available in commercial seed catalogs; by 1983, there were 25 available pea types. More than 300 varieties of sweet corn in 1903 dwindled to 12 in 1983; 544 cabbage varieties in 1903 diminished to 28 in 1983.
Here's the problem: Modern crops are significantly less nutritious than the crops our grandparents ate. Farmers must select crop types for yield and their ability to be transported and stored, rather than for nutrition. Moreover, soil depletion and rising carbon levels in the atmosphere may further contribute to the declining nutrient values of our food. The USDA has monitored the nutrition in crops since the late 1800s, and the data is troubling. According to one analysis, an orange today contains eight times less vitamin A than an orange your grandparent would have eaten. Broccoli contains less than half as much calcium as it did in 1950.
Exotic superfoods may be trendy, but local, seasonal foods are the real superfoods.
Click To Tweet
To complicate the problem, nutrients degrade quickly after produce is picked. Conventional produce is often picked before it's ripe, is shipped an average of 1494 miles, and is handled frequently and stored on shelves for days.
For obvious reasons, local produce is nearly always fresher than produce shipped from across the world.  And it may contain more nutrients in the first place because farmers growing food for local markets can choose crop types for nutrition and flavor, such as antioxidant-rich purple carrots and potatoes. Moreover, there's a less understood reason to eat seasonal foods; by doing so, we tap into nature's wisdom about what's best to eat when.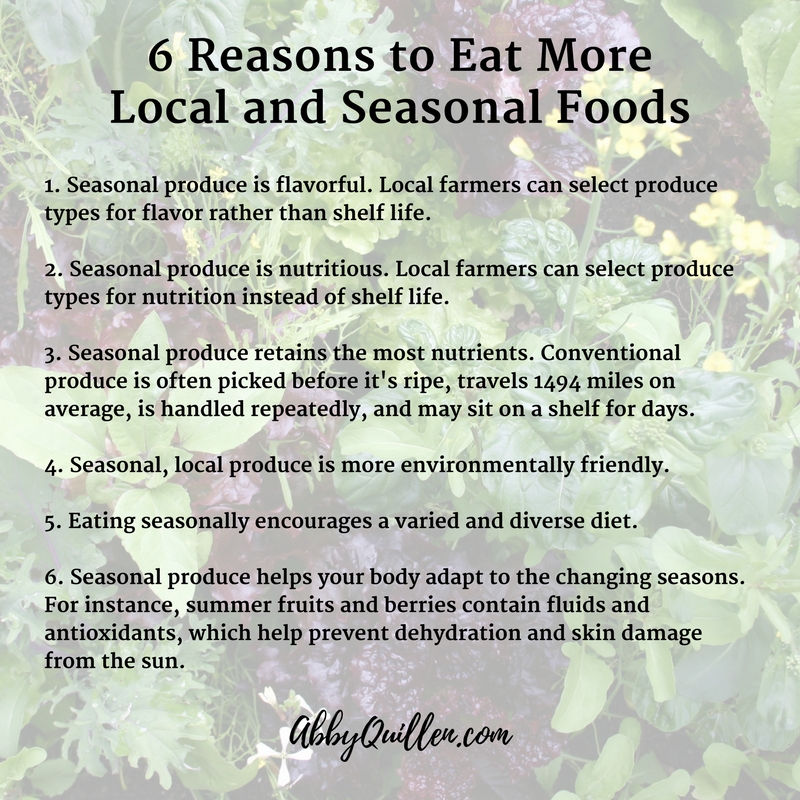 Tap into Nature's Wisdom
Because of the tilt of the earth, seasons exist everywhere, except for a small tropical band near the equator, which has minimal seasonality. In some regions of the earth, seasonal changes are extreme. In parts of Alaska, summer and winter temperatures vary by 100 degrees. Flora, fauna, and weather vary widely by region and and season, and it makes sense that our diets would vary accordingly, since they were once dependent on the local environment. The bottom line? We evolved to eat certain foods at certain times. And now that we've lost touch with which crops grow when, we may have lost a natural way to stay healthy during each season.
Consider these examples:
Summer crops (berries, fruit,

snap beans, corn, cucumbers, melons, peppers, tomatoes, and summer squash)

provide energy, hydration, and antioxidants to help people deal with the potentially damaging effects of summer sunshine.
Fall and winter crops (

sweet potatoes, winter squash, chard, spinach, bok choy, and kale)

provide large amounts of vitamin A, a nutrient that supports the immune system, just as seasonal illnesses are circulating.
Spring crops (watercress, pea shoots, wild nettles and greens) have anti-histamine effects in the body, which helps fend off spring's seasonal allergies. (Nettles worked better than allergy medication in one study.)
The health benefits of seasonal eating go beyond ingesting antioxidants and phytochemicals. Eating is not only about nutrients; it's about our relationship with the natural world, the source of all real food.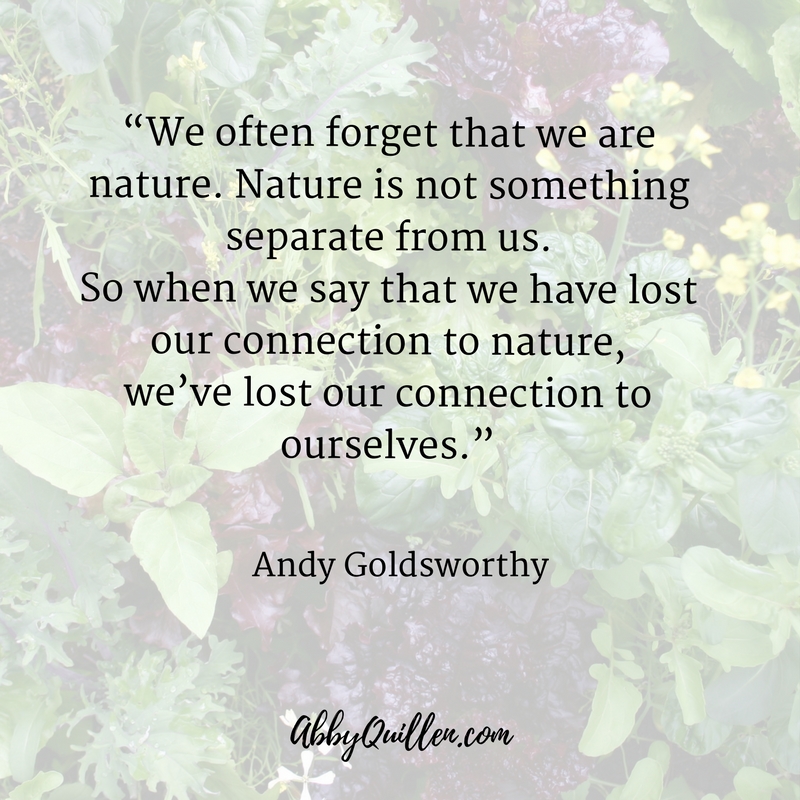 Humans are wired to be outside. Spending time in nature is therapeutic, healing, and necessary for human health. Reconnecting food to its true source by hunting or gathering wild foods, gardening, or visiting farms or orchards can be a powerful step toward better health. When you adjust your diet with local conditions, you must observe and relate with the environment outside the climate-controlled homes, buildings, and cars, where Americans now spend 90 percent of the time.
Invest in Healthier Ecosystems
The industrial food system, which was developed in the decades after World War II, features enormous single-crop farms and animal production facilities and relies heavily on chemical fertilizers. The system has been successful at increasing crop yields, making food cheaper, decreasing the need for farm labor, and increasing the availability of off-season crops. Unfortunately, the environmental costs for industrial agriculture have been huge and include mass extinctions, a biodiversity crisis, contaminated water ways, the rise of antibiotic-resistant bacteria, and pesticide toxicity.
In wealthy nations, food consumption is estimated to account for 20 to 30 percent of each family's environmental footprint. Environmental life cycle food assessments are complicated, and it's important to factor how the food is grown and transported to market. However, many studies suggest that even a small shift to local and seasonal eating may make a difference to the environment.  A research team found the conventional food distribution system emitted 5 to 17 times more CO2 and used four to 17 times more fuel than the local and regional food distribution systems in Iowa. A Canadian study estimated that replacing imported food with locally grown food in just the Waterloo, Ontario region would save transport-related emissions roughly equivalent to taking 16,191 cars off the road. According to another analysis, if everyone in the U.S. just ate one meal a week consisting of local and organic produce, we'd reduce our national oil consumption by 1.1 million barrels a week.
Step Outside of the Grocery Store
Seasonal eating goes against our always-available, fast-food culture, and it may not be intuitive if you weren't raised doing it. Growing up in rural Colorado, nearly all of my family's produce came from refrigerated cases at a national grocery chain. My dad grew a small vegetable garden one summer (an experience that had an enormous impact on me). Other than that, we didn't grow food or visit farms or orchards. Most years, the apples and plums on the trees in our yard fell to the ground and rotted, as did the fruit on the trees around our neighborhood. Little of the wisdom my ancestors must have possessed about hunting or growing, storing, and gathering food was passed to me. However, I'm committed to eating more local and seasonal foods because it feels like the most nutritious, sustainable, and nourishing way to eat.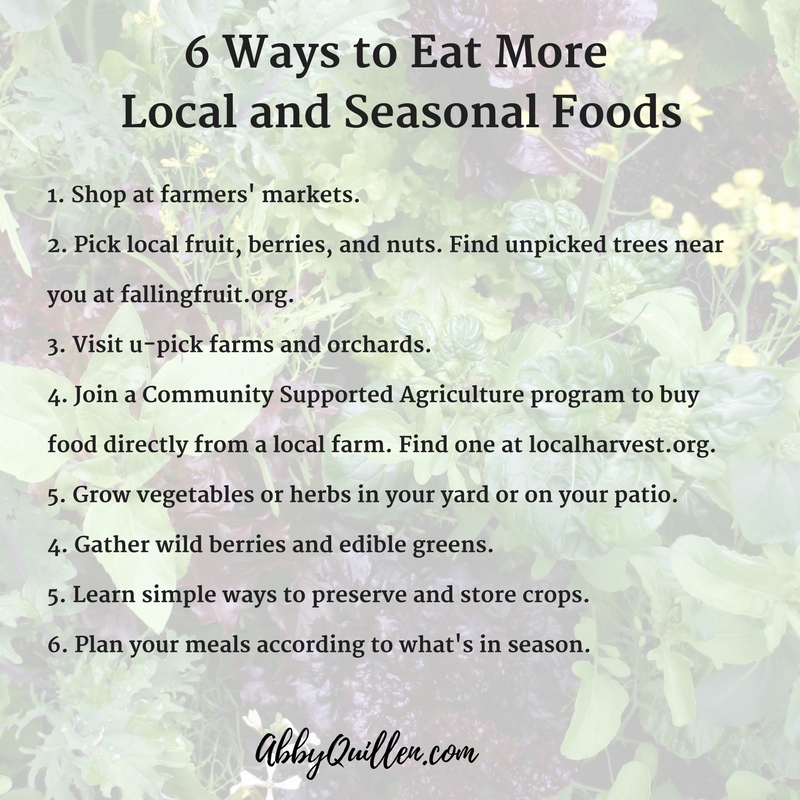 These days, my family and I garden, gather food, belong to a Community Supported Agriculture program, and regularly visit farms and orchards. We don't stick to a 100-mile diet or eschew all imported foods. We enjoy coffee and imported oranges and bananas as much as the next family. But we do our best to heed some traditional wisdom and stay connected to our natural environment as we live our busy lives in the modern world.
Even a little local and seasonal eating may make a difference to your health, community, and local ecosystems. And it's an amazing way to connect with the natural world and glimpse the beauty and wisdom pervasive there.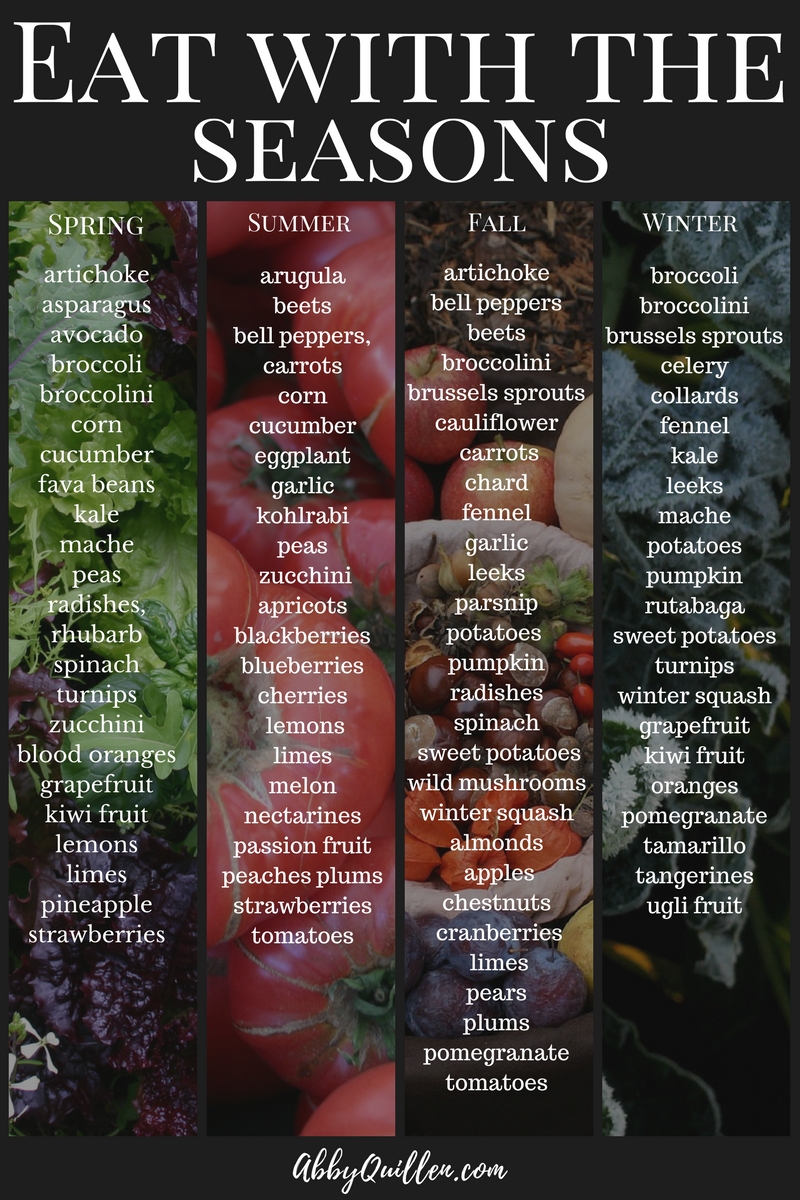 If you liked this post, you may enjoy these related posts:
Save
Save
Save
Save
Save
Save
Save
Save
Save
Save
Save
Save
Save
Save
Save
Save
Save
Save
Save
Save
Save
Save
Save
Save
Save
Save
Save
Save
Save
Save
Save
Save
Save
Save
Save
Save
Save
Save
Save
Save
Save
Save