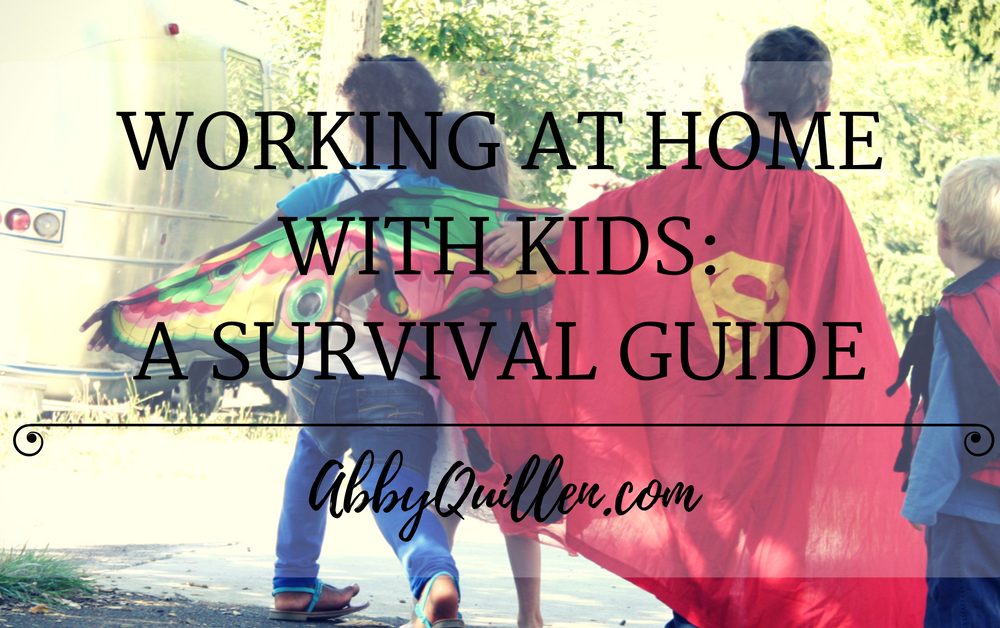 When I decided to work at home a few years ago, a lot of people thought I was crazy. "You can't work at home with little kids," more than a few told me. On occasion (think: screaming toddler, ramshackle house, hungry cats, imminent deadline), I've agreed.  The work-at-home parent life is not always easy.
But most of the time I love it. I get to hang out with two charming little boys, spend lots of time outside and in my garden, see friends most days, and write. It's a pretty wonderful gig. Here are some tricks I've learned to make it work if you too are doing the work-at-home life or contemplating it.
In the mornings, I do the house chores, including making a healthy lunch and sometimes dinner in advance.  Mid morning, we often meet friends or go to the park, on a walk, or to the library. In the afternoons, I work (during nap and preschool time and when my husband gets home). By dividing the day this way, my kids know what to expect, and I rarely have to multitask home and work tasks.
Reprogram your relationship with time
I worked outside of the home for more than a decade, so it took me a long time to shift to a work-at-home mentality. When I was gone all day and got home at 6:30 or 8:30 in the evenings, my main cooking concern was short preparation time. Now, I have plenty of time. So I can easily make nutritious meals that require little effort but lots of cooking time, like beans, grains, and stock. We rely heavily on those staples for most of our meals.
For a long time, I made detailed to-do lists every day, which helped me remember everything I needed to do to manage a house and business. Now I've mostly gotten the house chores down, and I've discovered a new deceptively simple trick to stay on task with work. Right after I wake up, I think of the one thing I want to get done during my work time. I can't believe how much this helps me prioritize and focus.
I'm also learning when to ditch the plans and take advantage of the perks of working at home. We've had some insanely nice weather this spring, and I'm grateful that I've gotten to revel in it. My garden is grateful too.
This year, I started waking up at 5 and going on a run or walk before my family wakes up. It's completely transformed my days. I savor that quiet time outside (especially now that the sun is up and the birds are singing), and I have infinitely more energy and patience all day long.
When Ezra went through a hitting stage awhile ago, I discovered a magical solution to almost any behavioral problem. After trying nearly everything else I could imagine, I told Ezra to come sit on my lap for a few minutes when he felt like he wanted to hit his brother. He did, and the hitting completely stopped.
No matter how busy I am, I try to remind myself that it's easier to give one-on-one attention each morning than to manage the whining, tantrums, and fights that ensue when attention tanks run low. Likewise, lots of outside play and regular high-protein snacks work miracles.
A few years ago, I read an article by a police officer who responds to domestic violence situations. The first thing he does when he enters a house is walk around and turn off all of the background noise. He says usually a radio and TV are blaring. It took me a long time to realize how much noise can affect a household. I listen to a podcast or turn on music for a while every day. When it's on, I really listen to it. Then I turn it off. We all get along a lot better when we can focus on and hear each other.
I heard that they design notification alerts to stimulate the opiate receptors in our brains. Maybe that's why it's nearly impossible to ignore one when you hear it. I check my email about three times throughout the day. Other than that, I keep it closed. The same is true for Facebook and Twitter, which I allocate a small window of time to each day. Trust me, I learned this lesson the hard way.
Beware the learning curve
Managing a house and business and parenting at the same time requires new skills, tricks, and tools. For me, it took about two years to feel somewhat competent, which leads me to my last point and the giant caveat to everything I've written above….
Be ready for change and setbacks
Every time I think I've got the work-at-home parent life down, things change. One of the kids goes through a monstrous (three-year long) bout of separation anxiety. Another gets four molars in two weeks. An editor emails with an amazing opportunity the same week everyone in the house gets the flu. It's inevitable.
And finally, the most important thing I'd recommend for the work-at-home life is an awesome partner. My husband watches two little boys while he's getting ready for work most days. Then he gets home from a long work day and usually makes dinner while I work. There's no doubt about it, he's the rock star behind this operation.
Thinking about working at home with kids? Here's your survival guide.
Click To Tweet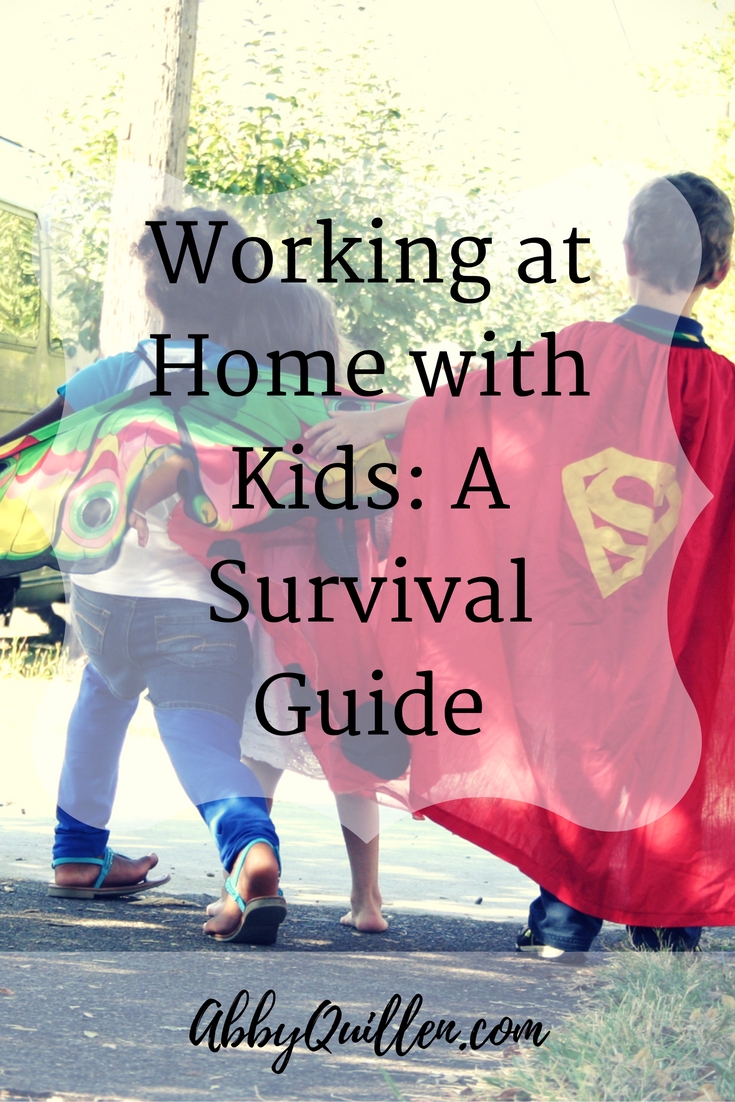 If you liked this post, you may enjoy these related posts:
Do you work at home with kids? Do you have any tricks, lessons, or hacks you're willing to share? I'd love to hear about it in the comments.
Save
Save
Save
Save