Rip open a bag, toss some greens in a bowl, pour on some dressing, and voila, instant salad. No washing, chopping, or spinning. What's not to love about packaged salad greens? Seventy percent of American families buy them. And packaged greens may even encourage salad-phobic Americans to eat healthier.
Unfortunately, packaged salad greens come with some downsides and even some health risks. Keep reading to learn why you may want to spend a few extra minutes washing, chopping, and assembling your salads from fresh (unpackaged) greens.
Salad with a side of foodborne illness?
Any food you consume raw comes with a greater risk of foodborne disease. Leafy green salads are one of the top sources of infections. They account for 20 percent of outbreaks in the U.S, according to the Center for Disease Control and Prevention and 30 percent of outbreaks in Europe, according to the European Food Safety Authority. Packaged greens and salad mixes are especially susceptible to pathogen contamination because they're handled more and sit on the shelf longer than fresh greens.
When the leaves of packaged salad greens are  torn or chopped before they're packaged, they leak juices, which increase the risk of Salmonella growth by 2400 times. Moreover, packaged greens may be contaminated with e. coli bacteria if they come into contact with animal feces or contaminated water or if workers don't wash their hands well at the farm or in the factory. A Consumer Reports study found unacceptable levels of bacteria in 39 percent of the packaged greens they tested, including those produced by major brands such as Earthbound Farm Organic, Dole, and Fresh Express. Some of the biggest outbreaks of foodborne disease in the recent past have been linked to bagged salad greens, including an E. coli outbreak traced to packaged romaine lettuce that killed five people and sickened 197 people in 35 different states this spring (2018).
To minimize your risk of acquiring a foodborne disease from salad greens:
Buy fresh leafy greens that have not been chopped, torn, or crushed and have been handled as little as possible.
Remove the outer layer of lettuce leaves and discard them
Keep salad greens refrigerated.
Wash salad greens (even packaged ones) before eating them by running each leaf under running water.
Don't let greens sit in the fridge for more than a week.
Don't eat greens if they look or smell off in any way.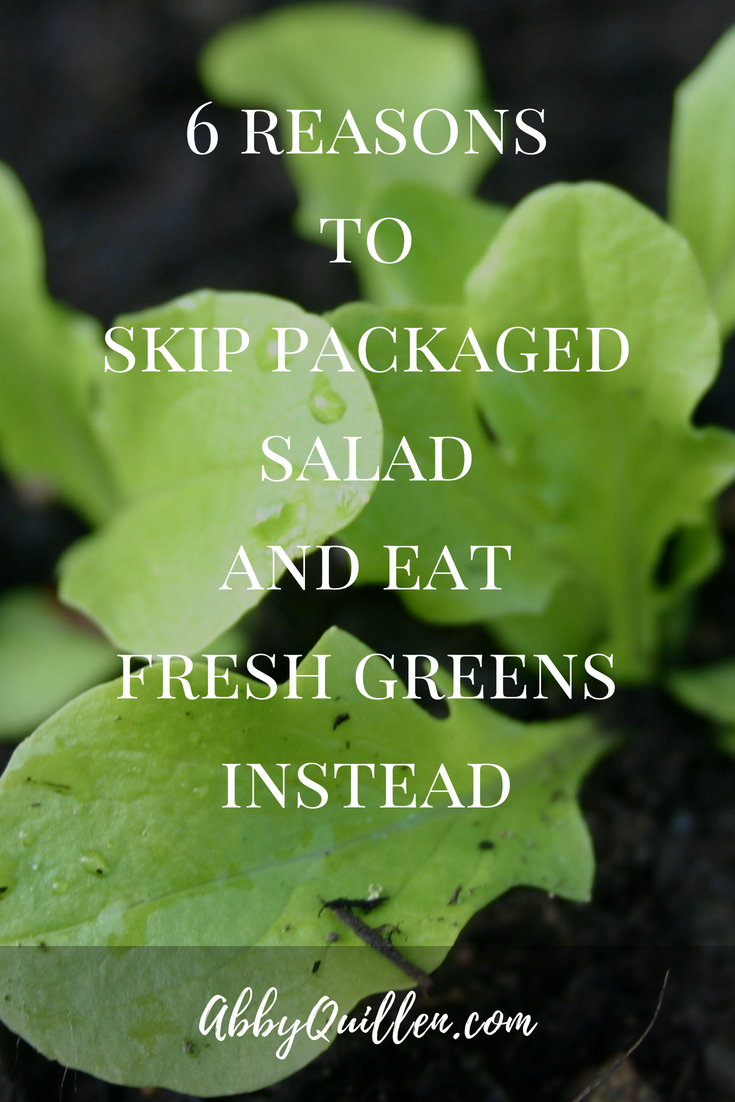 The packaged salad industry harms wildlife
When you eat a salad, you may feel good about consuming a meal that doesn't hurt animals. Unfortunately, that's probably not the case if your packaged greens were grown in Central California (and there's a good chance they were). The region is called America's salad bowl because more than 75 percent of America's salad greens are grown there. Large farms in the Salinas Valley process as many as 10 million pounds of salad greens per week.
In 2006, a massive E. coli outbreak was traced to bagged spinach grown in the Salinas Valley. Because, E. Coli is spread from animal feces, all animals were seen as a threat – frogs, mice, deer, hawks, owls, and birds. Farmers responded to the outbreak by eradicating wildlife habitat from their farms. They clear cut trees, grass, and hedgerows; filled in ponds; and erected fences to keep wildlife from crossing streams and entering farms. More than 90 percent of wetlands, floodplains, and riparian habitat in the Central Valley have been decimated.
These "sterile" agricultural practices have a detrimental impact on wildlife and contribute to the biodiversity crisis and mass extinctions. Moreover, they may be counterproductive. Wetlands help reduce pesticide runoff and bacteria contamination of crops. Studies indicate farmers can reduce E. coli contamination on a farm by as much as 99 percent by restoring wetlands and waterways.
To support farmers who protect wildlife habitat:
Choose organic, which minimizes the use of pesticides and herbicides, which impact wildlife.
Look for foods with the eco-labels Certified Wildlife Friendly or Food Alliance Certified, which ensure farms protect wildlife habitat and biodiversity.
Shop at your local farmers' market and talk to farmers about their farming practices.
Packaging greens requires a lot of water
Have you seen the triple-wash guarantee on salad packaging labels? Repeated washing is necessary to make commercial salad greens clean and safe. No one wants to find dirt or a frog in a bagged salad mix, and, as mentioned, the risk of foodborne disease is high in foods eaten raw.
But washing operations use a lot of water. "The bagged, triple-washed variety is enormously water costly," Gidon Eshel, a professor at Bard College's Center for Environmental Policy told Mother Jones Magazine. You can see a video of  one part of the washing process here to understand how much water is used to clean salad mix. Farmers in Central California are incentivized to plant more greens than they can sell, which wastes even more water (not to mention that they throw excess product in the landfill, packaging and all).
Water waste may not be an issue in some parts of the country. But California doesn't have excess fresh water to spare. Between 2012 and 2016, California experienced the worst drought in its history. Most of the water in the state is used by farmers. Since 1922, California has relied on a 242-mile aqueduct system from the Colorado River to supply drinking water to residents of Southern California.
To support agriculture that conserves water:
Plastic or plastic?
When you buy packaged salad, you have two choices of packaging: crinkly plastic bags or plastic clamshell boxes. Both are a disaster for the environment, especially now that many municipalities worldwide have halted plastics recycling. If you must buy packaged salad, the most eco-friendly option is clamshell boxes made of recycled materials.
To reduce the plastic waste from your salads:
Grow your own greens.
If you buy greens at a grocery store or farmer's market, use reusable grocery and produce bags.
Reuse any plastic produce bags you take.
Greens with a side of chemical sanitizers?
Commercial cleaning machines handle mass quantities of greens and can't manually clean them as well as you do at home under the faucet. Thus, they use chemical disinfectants, usually diluted chlorine. Some European Union countries, including the Netherlands, Denmark, and Belgium, have banned the use of chlorine for washing fresh-cut produce because it can create harmful disinfectant by-products in the water.
To minimize your chance of ingesting chemical sanitizer residue:
Where have all the nutrients gone?
Packaged salad greens are sometimes two weeks old when you eat them and have gone through a lot of processing in the field and factory. Unfortunately, they lose a lot of nutrients in the process. Research suggests they may lose half of their folate, up to 80 percent of their vitamin C, and 46 percent of their carotinoids.
To eat the freshest, most nutritious food possible:
Grow your own vegetables or buy from a local farm
Conclusion
Don't be afraid to enjoy a packaged salad mix occasionally. They may be more risky than many foods, but they're unlikely to hurt you, statistically speaking. Moreover, any greens are better than not eating greens.
However, if you want to eat the freshest and most nutritious food possible (and who doesn't?), skip packaged greens and opt for making salads out of fresh greens. You'll ingest more nutrients, and you'll support agriculture that's better for wildlife and the environment. As Micheal Pollen writes, "How you and your family choose to spend your food money represents one of the most powerful votes you have."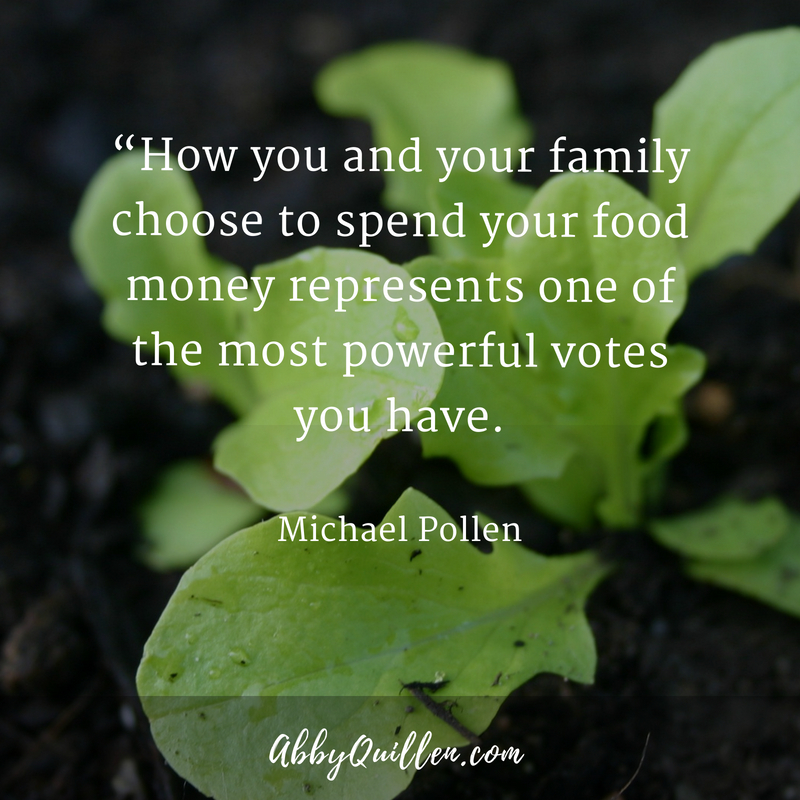 If you enjoyed this post, you may enjoy these related posts: