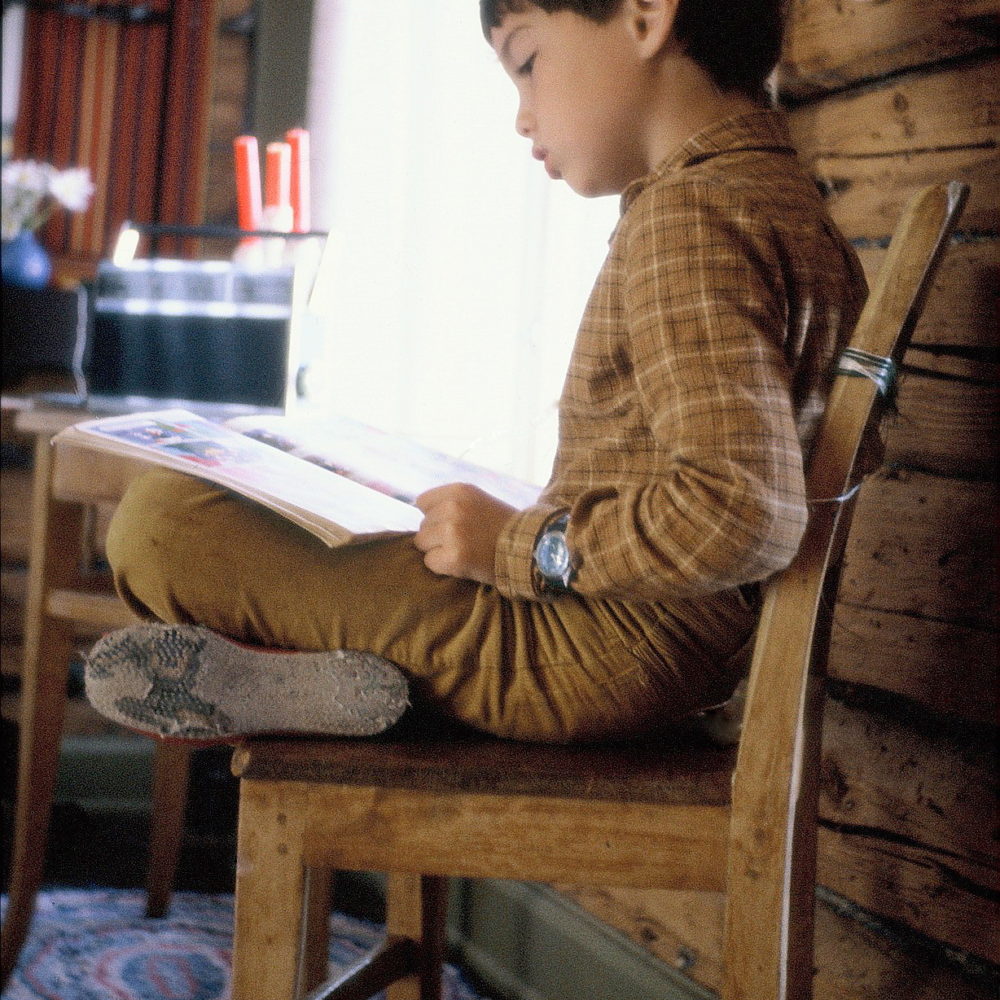 Novelists Stephen and Tabitha King raised a family of wordsmiths. Their sons Joe and Owen are both published novelists, and their daughter Naomi, a Unitarian minister, writes sermons. When Joe (Hill) published his first novel Heart Shaped Box in 2007, he explained why he wanted to join his parents in the storytelling vocation: "It sounds very Victorian, but we would sit around and read aloud nightly, in the living room or on the porch. This was something we kept on doing until I was in high school, at least."
Gathering the entire family to read aloud probably sounds quaint in an era when some families communicate mostly via cell phone and others can hardly find time to eat together once a week. But as the King family exemplifies, carving out time each day for a family reading tradition has tremendous benefits for both kids and parents. It can:
The National Endowment for the Arts (NEA) has surveyed adult reading every year since 1982. In 2002 they reported that the number of adult readers in all segments of the population is plummeting. The steepest rate of decline is in the 18 to 24 year old age group. 43% of American adults don't read even one book a year, and over 50% of adults don't read any novels, short stories, plays, or poetry. Dana Gioia, Chairman of NEA, lamented: "America can no longer take active and engaged literacy for granted."
Kids may learn how to read and write in school, but schools are not creating lifelong readers. Books compete with an ever-growing contingent of television shows, video games, and hand-held devices for attention, and the sad reality is, books are losing.
The good news? It's easy for parents to encourage kids to read for leisure. All we have to do is read! Jim Trelease, author of The Read Aloud Handbook, calls it the "sponge-factor" of education. Reading aloud as a family is an excellent way to foster a love for the written word.
Develop focus and listening skills in both parents and kids
"Is Google making us stupid?" Nicholas Carr asks in a July 2008 Atlantic Monthly article. "Immersing myself in a book or a lengthy article used to be easy. … Now my concentration often starts to drift after two or three pages. I get fidgety, lose the thread, begin looking for something else to do…."  We're probably all a little too familiar with Carr's sentiment.
Concentration is a powerful tool. It enables us to work efficiently, stay task-oriented, and enjoy our leisure time. But modern life encourages distraction – from those running news feeds on the cable news, to those always-beckoning sirens: email, Facebook, and Twitter, to that hyper-fast, skimming paradise that is the Internet. Don't be surprised if you find it hard to sit and focus on a story for even a half an hour a day. But practice makes perfect. Reading and listening to others read is a fun way to develop our listening and concentration skills. And our kids, who don't remember life before the Internet, need to develop and practice these skills even more than we do.
Build kids' literacy skills
Reading with parents exposes kids to materials they might not be able to tackle on their own yet. It helps kids increase vocabulary, work on pronunciation, speak confidently, and gives them a chance to ask questions and build comprehension skills. Reading well is also the foundation of writing well, which might explain why all those King kids are professional writers.
Provide more reading and bonding time for families
A family reading tradition allows you to spend more of your day cuddling with the people you love the most and reading.
Unlike television or video games, reading forces us to paint pictures in our minds. Kids are naturally imaginative and creative, and they are masters of make-believe. But a lot of adults are so swamped with the details of daily life that we don't have time for creativity. Most everything around us is the result of someone's imagination – desks, computers, houses, skyscrapers, sewing machines, novels, clothes, etc. An active imagination is perhaps the most powerful tool we have as humans. Reading every day is a great way to exercise those imagination muscles.
Encourage relaxation and restful sleep

In Living Outside the Box: TV-Free Families Share Their Secrets, Barbara Brock points out that watching television in the evenings has a way of structuring our time. We rush around to get everything done, race through dinner, and hurry through a phone call with a friend, so we can get to the television set before our favorite shows come on. It can be anything but relaxing.
Moreover, some sleep experts warn that using any electronic device before bed can rob us of a good night's sleep because the light from the screen halts production of sleep-producing melatonin. They recommend shutting TVs, laptops, PDAs, and cell phones off an hour before bed. Reading together by lamplight is a perfect, relaxing, sleep-friendly pre-bedtime activity.
Allow parents to reread some old favorites
I've already gotten to revisit some of my favorite picture books with my son, like Where the Wild Things Are by Maurice Sendak; Alexander and the Terrible, Horrible, No Good, Very Bad Day by Judith Viorst; and The Day Jimmy's Boa Ate the Wash by Trinka Hakes Noble. And I can't wait to share Charlotte's Web by E.B. White, Summer of the Monkeys by Wilson Rawls, and Tuck Everlasting by Natalie Babbitt when he's a little older. I'm also excited to catch up on the more recent children's books I've been missing all these years.
Tips for creating a family reading tradition
Get comfortable. Pull out the pillows, drop into your sofa, or stretch out on your porch swing or Adirondack chairs. Make some snacks and cuddle. Family reading time should not be a chore. It should be a fun, relaxing leisure activity that everyone in the family looks forward to.
Choose fun books with engaging story lines. Don't feel like you need to plow through the classics. If you're struggling to find a good book, go talk to your local children's librarians. They read a lot, and they have loads of resources to help you find the perfect book. Most libraries also subscribe to a database called Novelist that patrons can access at home with a library card. It can help you discover new authors who write like your favorite authors, find books in a particular genre, access lists of award-winning books, and get reading recommendations from librarians across the country.
Be dramatic – Create voices, read expressively, and practice your pacing. Show your kids that books can be even more entertaining than TV. If you need some inspiration, pick up some audio books at your local library and learn from experts at reading aloud.
Give everyone a turn reading. When kids are old enough, let them take turns running the show.
Get creative. Incorporate crafts, drama, or puppetry into what you're reading. When I was in third or fourth grade, my dad read Homer's Iliad and Odyssey aloud to my sister and me. Those may sound like ambitious books for elementary school kids. But we followed along and loved every second of it, partly because he encouraged us to make costumes and act out scenes. For the Iliad, I played Hector and my sister played Achilles, and we spent weeks making swords and armor for our big battle scene. (I wish someone had told me how that ended before I chose to be Hector.) I still have an intimate connection with those two books, and I aced the grueling exam on the Iliad in my college literature class.
Entertain younger kids. One of the challenges of reading as a family is appealing to different age groups. Pick a book that engages most of the family, and provide special toys for younger kids to play with just during reading time. Babies and younger kids benefit from seeing and hearing parents and siblings having fun reading, even if the story line eludes them. (Of course, they'll need some additional one-on-one time to read books at their own level too.)
Read together because it's fun, not because it's good for you. Resist the temptation to make everything into a lesson for your kids. Talk about what you read, but don't drill them with questions.
You don't need kids to have fun reading aloud. My husband and I read aloud to each other long before we had a baby. Some couples read books on marriage or tackle religious texts. We stuck mostly to short stories and novels. Reading aloud is an entertaining way to spend time with anyone you love. In fact, every time I see my sister or my parents, it seems like one of us ends up reading something to the other(s).
If you liked this post, you may enjoy these related posts:
What do you think? Does your family have a reading tradition? When and what do you like to read aloud together?
Save
Save