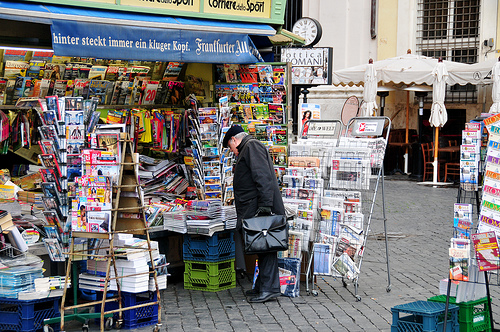 I used to love compiling Hopeful Weekend Links to post here every Friday. But some weeks it was difficult to find six hopeful stories. I found myself flipping through one depressing story after another. And I've become increasingly aware that most of the news I consume is bad news. For instance many Sundays the front section of my local paper does not include even one uplifting story. I found myself relying heavily on a few sources. And I want to share those with you, in case you don't already know about them.
Ode Magazine – Based in the Netherlands, the publishers of Ode call themselves "Intelligent Optimists." They dedicate themselves to reporting on "the people and ideas that are changing our world for the better", and they compile good news all week, every week.
YES! Magazine – The publishers of YES! write that they want to "give visibility and momentum to these signs of an emerging society in which life, not money, is what counts; in which everyone matters; and in which vibrant, inclusive communities offer prosperity, security, and meaningful ways of life."
GOOD Magazine – According to their website, "GOOD is the integrated media platform for people who want to live well and do good." They specialize in slick visual info-graphics.
Utne – The editors call the print magazine and website, "Not right, not left, but forward thinking." They often feature interesting and hopeful happenings in their blogs.
Shareable.net – A newer online publication, Shareable is dedicated to covering "the people, places, and projects bringing a shareable world to life." They routinely run stories on inspiring innovators and collaborative movements.
I also just discovered Sightline Daily, a compendium of "Northwest news that matters". And it's made me wonder, what else am I missing out on?
So please tell me … what magazines, newspapers, blogs and websites do you think are worth reading? Where do you find hopeful news or news that matters to you?
Save