Most of the new parents I know are anything but negligent. They take their toddlers to storytime and enroll them in swim courses, dance classes, and music lessons. They serve fresh vegetables, read picture books, learn baby signs, and take workshops in infant massage and child development. A storytime leader at my local library jokingly refers to my generation of moms and dads as "PhD parents."
But with all the scheduling, classes, and shuttling around, we may be in danger of neglecting something that's actually more crucial to our children's health and development than workshops and classes – unstructured playtime in nature. Numerous scholars and environmental psychologists are sounding an alarm, arguing that kids today are at risk for developing what Richard Louv, author of the 2005 bestseller Last Child in the Woods and Chairman of Children and Nature Network, calls "Nature-Deficit Disorder."
Humans need to experience nature.
Both adults and children have an innate affinity for the natural world and an urge to connect with other forms of life which Harvard researcher Edward O. Wilson coined "biophilia". Unconvinced? Consider the following findings:
Workers who could view a nature setting from work were more satisfied, felt better challenged by their jobs, and reported better health than co-workers who couldn't view nature. (Kaplan, R. & Kaplan, S. (1989). The Experience of Nature: A Psychological Perspective. Cambridge: Cambridge University Press.)
Surgical patients randomly assigned to a room with a view of trees required less pain medicine, healed faster, and were discharged sooner than those with no window or a view of a brick wall. (Ulrich, R. (1984). View Through a Window May Influence Recovery from Surgery. Science, 224, 420-421)
A view of green plants and vistas helped highly-stressed rural children relieve anxiety. The more plants, green views, and access to natural play areas the kids had, the less stressed they were. ("Nearby Nature: A Buffer of Life Stress Among Rural Children." Environment and Behavior. Vol. 35:3, 311-330.)
Girls living in inner-city Chicago Public Housing with views of greenery had more self-discipline, increased concentration, and reduced impulsive behavior than girls the same age living in identical housing in more barren areas. (Journal of Environmental Psychology, 22, 49-63.)
Unstructured play, especially outdoors, benefits kids.
We don't just need a view of nature either. We need to get out in it. Research, like studies conducted by doctors Hillary L. Burdette and Robert C. Whitaker, has shown that playing outdoors alone or with friends, siblings, or parents not only helps kids stay fit, it helps them :
pay attention
solve problems
sleep better
interact with others
avoid depression, anxiety, and aggression.
Kids are communing less with nature.
The research may be in, but those long summers many of us remember from childhood, where we roamed the neighborhood, collected bugs, made mud pies, and headed out for  week-long family camping trips seem to be going extinct. Children's playtime fell 25% between 1981 and 1997, and that trend has undoubtedly continued in the last decade.  Moreover, by 1990, the radius kids were allowed to roam shrunk to 1/9 of what it was in 1970.
Why?
We're busy. Americans work about five weeks more per year than we did in 1970. And the bad economy is making people even more hesitant to take time off. When workers are able to take a few days off, many feel they should stay connected to work via cell phones, laptops, and blackberries.
TVs, computers, video games, and hand-held electronic devices compete for our attention. The average person watches more than four hours of TV a day.
We've become scared of nature. The widespread fear of sun exposure in the last few decades (possibly resulting in an epidemic of Vitamin D deficiency) exemplifies how anxious many of us have become about the Great Outdoors.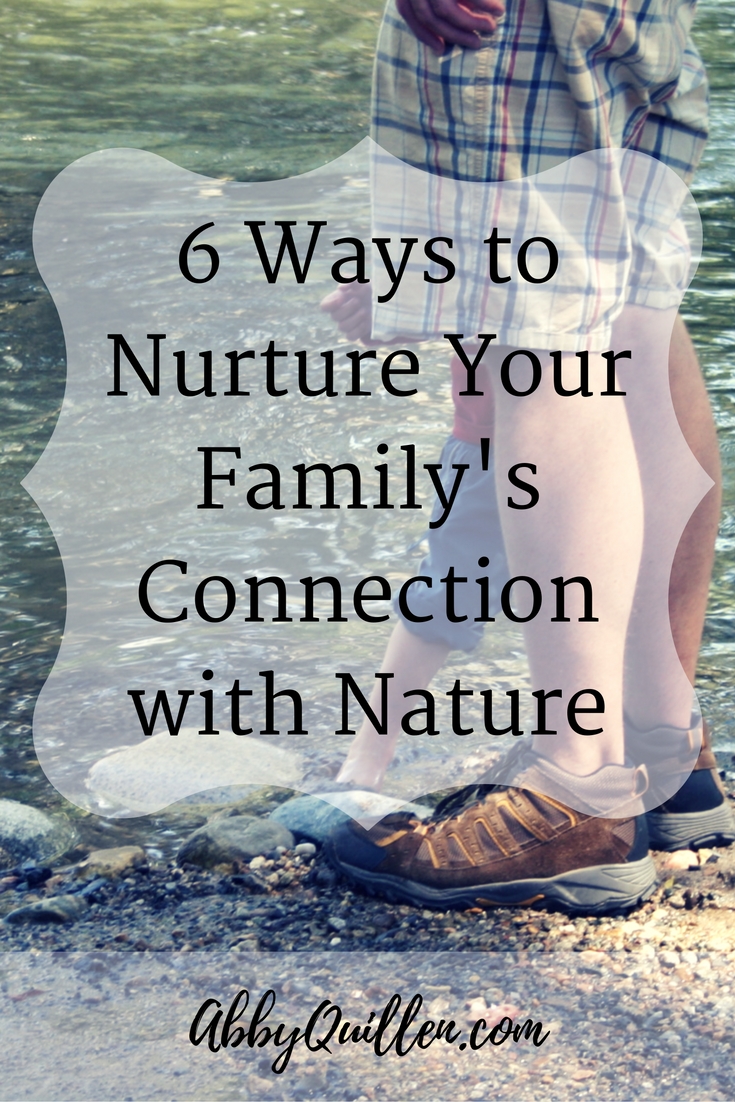 Six easy ways to re-connect with nature
1. Institute a family green hour.
If you're a scheduler, pencil a "green hour" into each day. At that time, let your kids enjoy unstructured playtime in the backyard, a garden, a neighborhood park, or another safe and accessible green space.
Remember, connecting with nature is necessary for adults too. During your family's green hour, get outside, work in the garden, draw or write in a nature journal, or just relax and observe your surroundings. You can connect with other families who schedule a daily green hour here.
2. Take a nature walk.
Pack a lunch and head to the forest or the city park. Nature walking is not the  time for feeling the burn. Set a slow pace and observe birds, plants, tracks, insects, scat, rocks, and the sky. Bring along binoculars, a magnifying glass, field guides, or just your curiosity.
3. Feed the birds.
Install a bird feeder outside one of your windows, and observe the birds that come and go. Feeders don't have to be expensive. Kids can even make their own. Read up on what kinds of birds live in your neighborhood. Different birds like different kinds of feeders. Don't stress if you don't see any action right away. It takes awhile for birds to find a new feeder. Attract even more birds to your yard by designing a bird-friendly landscape.
4. Watch the sky.
If you can see the stars from your backyard or patio, make a weekly stargazing date with your family. Find tips for what to look for each week here. You can also track the moon's cycle here.
If you can't see the stars from your abode, check out your local astronomy club. They often host free dark sky meet ups, where you can look through telescopes and learn about the constellations from dedicated stargazers.
5. Stare at the Clouds.
Connecting with nature doesn't have to be hard work. Stretch out on the grass and gaze up. If you like what you see, check out the Cloud Appreciation Society's website, or get your hands on a copy of one of their books: The Cloudspotter's Guide and The Cloud Collector's Handbook.
6. Take a Camping Trip.
If you're trying to save cash on your summer vacation this year, camping is the way to go. You'll need some basic gear – a tent, sleeping bags, a flashlight, water, a first aid kit, and plenty of food and water. You'll probably also want a lantern, camp stove, and a good book.
You don't have to go far from home, but the more off the beaten path, the better. Resist the impulse to over plan. Enjoy waking with the sun, spending long days wandering and relaxing, and talking and singing around the campfire at night. (Tip: leave the cell phone in the car.)
Humans need nature. Here are 6 ways for your family to connect with the natural world.
Click To Tweet
How does your family connect with nature? I'd love to hear your ideas.
Save
Save
Save