Do you make New Year's resolutions? If so, you're in good company. In surveys, nearly half of people say they usually do. The most common resolutions are to lose weight, exercise more, quit smoking, reduce debt, and manage money better.
Do you keep your resolutions? Unfortunately, if you're like 92 percent of resolution makers, you may struggle to follow through.
Here's why: Intention is important, but there's a far more powerful step to making a change in your life. Design a system that supports your desired habit.
Keep reading to learn why designing a system is a crucial (but sometimes forgotten) part of changing a habit. Then discover how to create effective systems to:
Get out of debt
Save money
Eat healthier
Get fit
How to Change a Habit

Why does it usually feel so difficult to change a habit? You can blame your highly efficient brain. A habit has three parts: a trigger, a response, and a reward.
When you repeat the same trigger, response, and reward for about 60 days, your brain identifies it as a habit and moves it to the basal ganglia, deep brain structures responsible for unconscious motor behaviors.
After this, when you notice the trigger, your pre-frontal cortex prompts the basal ganglia to automatically initiate the response. That's why it feels like you're not in control of your habits — and why it can feel difficult to change them.
Here's the good news: You can change a habit, and it doesn't need to be that hard. But it pays to understand systems thinking, which is how structure helps create the conditions we face.
Because we like to think we're in control of our habits, we often underestimate how much the design of the environment impacts our lives.
Systems Matter
For instance, you may think your health is in your own hands and determined by whether you decide to hit the salad bar or lace up your running shoes. But the design of your environment has a big impact on your actions.
Did you know the more intersections there are in your city, the less likely you are to suffer from obesity, diabetes, high blood pressure, or heart disease? That's because you're more likely to walk or bike when your city's infrastructure is designed for it.
The same thing is true of the infrastructure of your house. In cultures where people don't have furniture and need to squat on the floor to sit and prepare food, people tend to stay agile into old age.
Here's the bottom line: If you want to change something about your life, think about which structures are in place to support your old habit.
Unfortunately, the larger culture may be working against your healthy intentions. According to a recent study, only 3 percent of Americans have a healthy lifestyle, and the obesity rate is now up to 35 percent. We could clearly use some new society-wide systems.
But chances are, you can design a personal system to support your new habit. And when you do, you'll be far more likely to follow through on your resolution. Here are some specific examples.
Design Your Life for Financial Security
Do you want to pay off debt, save money, or invest more? Here's a surefire system to get on track. Set up your bill payments, savings deposits, and investment deposits to happen automatically. I resisted doing this for years, but once I did, my family's finances improved dramatically.
You'll need to set aside time to make a budget and then connect your accounts to your checking account or a credit card. If you have an employer, you may be able to also automatically divert some of your paycheck into savings and an investment account every time you get paid.
Don't take an out-of-sight out-of-mind approach though. Sign up for alerts to find out what's being withdrawn from your account. Then keep an eye on your account to make sure the appropriate amounts come in and out.
A company could accidentally overcharge you, although I haven't had a problem in five plus years of automatically paying our bills.
Once a year, go through your bills to determine if you still need the service or can get a better deal with a different plan or company.
Design a Better Diet

If your resolution is to eat healthier, here are three systems to help you eat better:
Grow a vegetable garden
Join a Community Supported Agriculture (CSA) program
Plan your meals.
When you garden or join a CSA (a weekly box of produce bought directly from a local farm), you increase your consumption of fruits and veggies and build your meals around the freshest, most nutritious produce available. (Check out this article to learn more reasons Local, Seasonal Foods are Superfoods.)
People who cook their meals at home also eat healthier without even trying. Planning meals makes cooking easier because it prevents the horrible feeling of staring into an empty fridge with no idea what to make when you're hungry. If you've never planned your meals, it's simple. For inspiration and ideas, check out this article I wrote on the subject for Fix.com.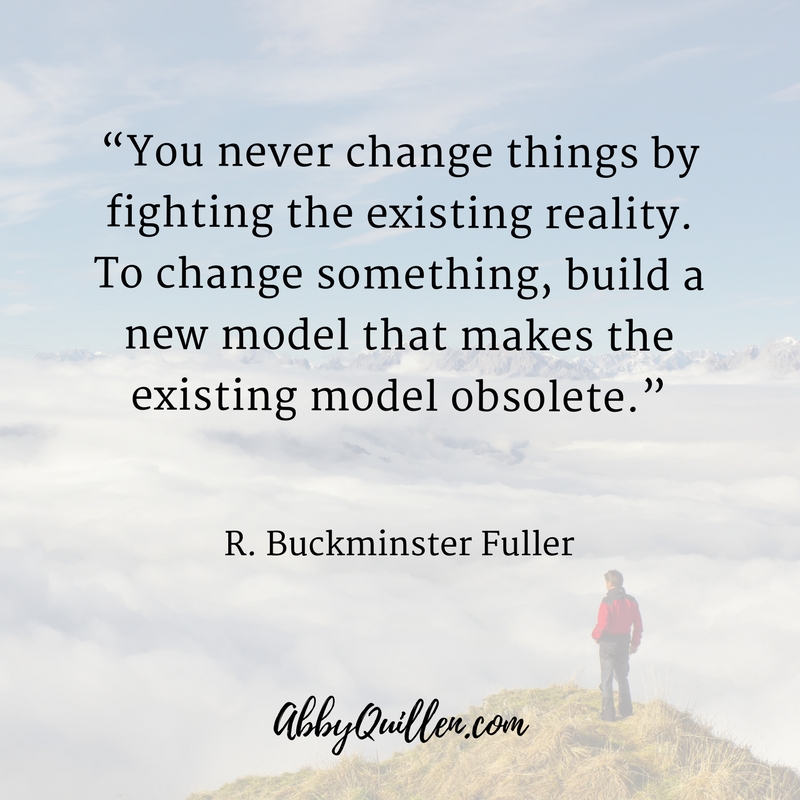 Design Your Life for Fitness
Want to get in shape this year (without buying an expensive gym membership)? Here are four ways to design your life for more physical activity:
Walk, bike, or ride public transit to work
Active commuting is a powerful way to improve your health. Regular walking is the best thing you can do to maintain a healthy weight, according to a British study. Cycling to work can decrease your risk of getting cancer by 45 percent and heart disease by 46 percent, according to another study. And in a different study, public transit riders were the healthiest of all commuters, probably because they ended up walking most. Bonus: This change is also good for the environment, and it may help you save money.
Exchange a car trip per day for a walking or bike trip
Not everyone loves going for a walk. Just ask my kids. But walking to do an errand feels more authentic than going for an aimless walk. Make it a regular errand, and you'll build regular exercise into your life. Aim for a 20 to 30 minute walk a day to meet the government's health recommendations.
Remodel your house with health in mind
Most people's houses are designed for sitting, but there's no reason you can't redesign your home for better health. Some people are outfitting their houses with monkey bars, mini trampolines, pull up bars, or climbing walls, and even transitioning to furniture-free living.
Redesigning your kitchen in subtle ways can make a big difference as well. Did you know you're likely to eat about 13 percent less food if you use a small plate? You'll also eat less food if the color of your food contrasts with the color of the plate.
Join a fitness streaming membership
Whether you love pilates, yoga, qigong, tai chi, barre 3, or any other type of workout, chances are you can stream unlimited videos in your living room affordably. That means you'll know exactly where to go when it's time to work out, which can help cut the paralysis from having too many choices. I love Essentrics and YoQi, which are each $15 a month. And there are many, many more options.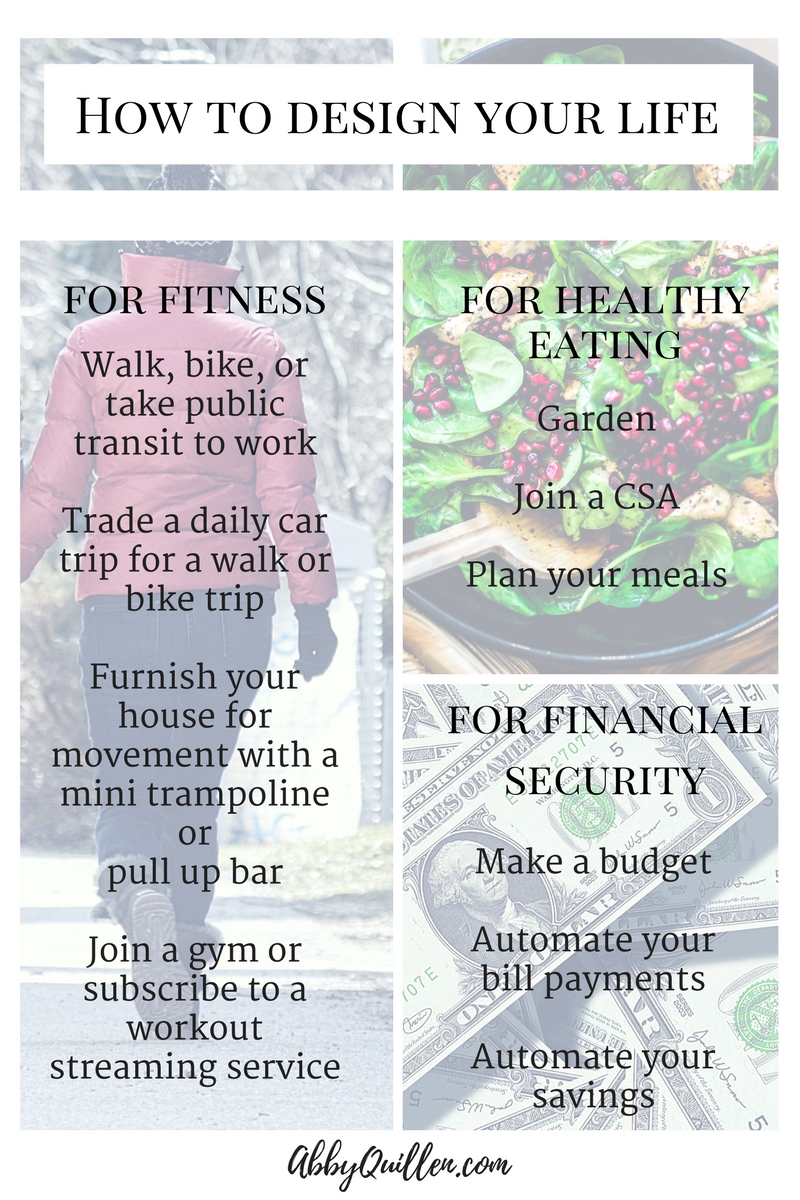 Conclusion
Old habits can be hard to break. Set yourself up for success by designing a system to make your resolution a reality.
If you liked this post, you may enjoy these similar posts:
Save
Save
Save
Save
Save
Save
Save
Save
Save
Save
Save
Save
Save
Save
Save
Save
Save
Save
Save
Save
Save
Save