Most women I know have cut out dairy, gluten, grains, legumes, or soy or experimented with a diet that eliminates a food group, such as Paleo, Keto, or Whole 30. Some men I know have too. I've been there as well. (More on my story below.)
Here's what I wish I could tell my younger self: A restrictive elimination diet may not be the only or best answer. There's another approach to vibrant health, one that your grandmother probably knew, and one that's emphasized by many traditional healing practices, including Traditional Chinese Medicine and Ayurveda. It's called nourishment, and your body, mind, and spirit may be craving it.
Are you well nourished? Even asking yourself the question is a little radical. Our culture doesn't put much value on nourishment. Doctors, workplaces, therapists, schools, and the media rarely mention it. But it may be time to put more of your focus on nourishing yourself, especially if you're struggling with your mental or physical health.
My Elimination Diet
When I was 20 and in college, I developed digestive issues and broke out in rashes. My doctor suggested I eliminate dairy from my diet. I followed his advice and felt better. His theory was that I'd developed an allergy to a dairy protein and may outgrow the allergy at some point. Over the next decade, I tried eating dairy a few times and experienced the same symptoms.
Then, at age 32, between my two pregnancies, I tried dairy again. This time, I had zero reactions, and I've eaten it ever since. In hindsight, though, I don't think I outgrew my allergy. At 20, I ate a lot of processed, fake, "fat-free," and junk foods. But by my thirties, I ate a healthy diet of real food, including plenty of fruits and vegetables, grains, and meat. I was nourishing my body better, and while I was at it, I was nourishing vast ecosystems inside my body.
Science Catches Up With Traditional Wisdom
Scientists sequenced the DNA of the human gastrointestinal microbiome in 2012 and discovered we share our bodies with trillions of microscopic organisms, which are organized into ecosystems that resemble forest ecosystems.
The balance of predators and prey determine the health of an ecosystem. In a 1966 experiment, scientists removed the purple starfish from the Washington coast, and the population of mussels (the purple starfish's food source) exploded and crowded out all other plant life. When wolves were reintroduced to Yellowstone Park, they regulated the elk population, which triggered a bioligical cascade that increased the number of willow, aspens, beetles, beavers, ravens, eagles, magpies, coyotes, bears, lynxes, and wolverines. Something similar can happen in your interior wilderness based on what you eat.
When the predators and prey in your microbiome are unbalanced, it's called dysbiosis. This can result from taking antibiotics or using antiseptics, and it can also be caused by diet. Many conditions we once attributed to other causes have now been linked to diet-induced dysbiosis. The composition of your intestinal microbiota can influence your susceptibility to:
Ulcerative colitis
Crohn's disease
Celiac disease
Irritable bowel syndrome
Obesity
Type 1 diabetes
Type 2 diabetes
Autoimmune diseases
Arthritis and other inflammatory condition
Food allergies
The Downside of Elimination Diets
Approximately 20 percent of the population have food allergies or sensitivities. Many more people try restrictive diets for other reasons, such as to lose weight, have more energy, or improve general health. But, just as with medications, strict diets can have unintended side effects.
First of all, diets that ban whole, nutrient-dense foods (such as dairy) may encourage people to reach for heavily processed alternatives.
Furthermore, restrictive diets impact social relationships, which are incredibly important for health and happiness. Humans have been gathering together to break bread for at least three centuries, and food is one of the primary ways we connect. Not being able to enjoy food with other people can be isolating and lonely. Restrictive diets also make travel more difficult, especially to foreign locales. Restrictive diets can have even more damaging effects for children. Childhood food allergies are linked with anxiety, compulsive behaviors, and eating disorders.
Please don't feel bad or guilty if you're on an elimination diet or if you've put your kid on one. Remember, I was on one for years. I only want to mention that there's an alternate approach that may be just as healing. If you're in search of better health, clearer skin, or more energy, or if you'd like to relieve gastrointestinal symptoms (that are not severe or life threatening), you may want to first try healing your gut with better nourishment. There are zero down sides to adopting a more nourishing diet. If you're on an elimination diet and need to stay on one, you could probably also benefit from putting more focus on nourishment.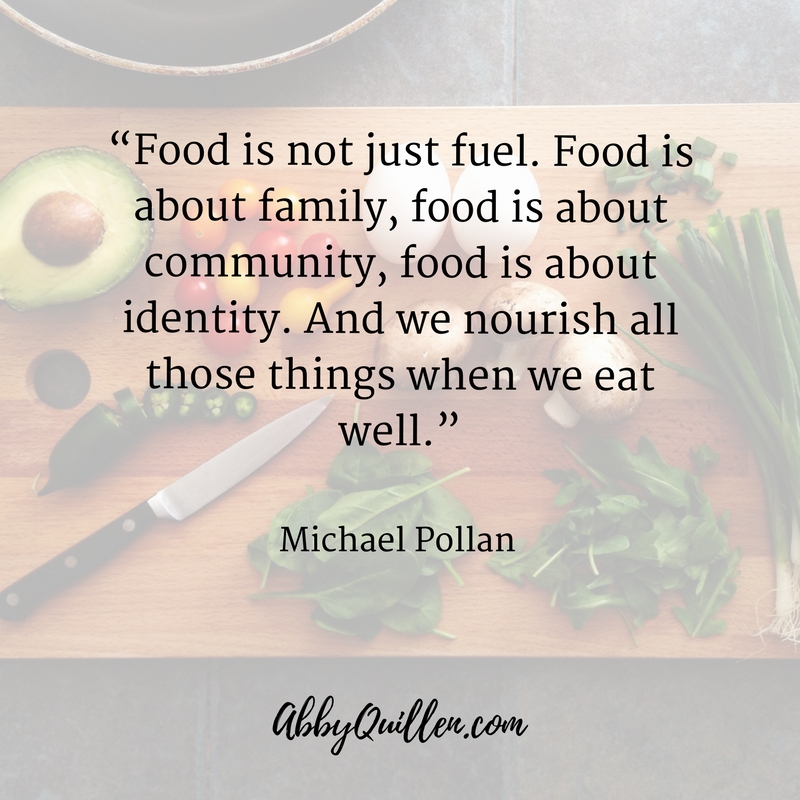 A Nourishment Crisis
Although Americans eat enough calories, 85 percent of us do not consume the recommended daily intake of the most important vitamins and minerals necessary for health.
The reasons are many fold. Seventy percent of the American diet is processed, and we tend to choose less nutritious foods over nutrient-dense whole foods. We eat almost no wild foods, which usually contain far more nutrients than their cultivated counterparts. Moreover, our crops are less nutritious than they were fifty years ago because industrial agriculture prizes shelf life over nutrition. The protein, calcium, potassium, iron, and vitamins B2 and C in our food supply are declining.
Not Just About Food
Moreover, nourishment is not just about food. Americans are chronically undernourished in two other key  ways that have an impact on our nutrient levels: physical activity and relaxation.
Frequent movement is what circulates nutrients to our bones, joints, ligaments, connective tissue, and organs. However, 80 percent of Americans do not exercise, and we walk about half as many steps as health experts recommend.
Americans are also under constant stress, which floods our bodies with hormones that deplete certain nutrients and trigger the gut microbiota to behave erratically. We can be nourished by long walks, time outdoors, time with friends, meditation, or time alone. What would your life look like if you put your focus on nourishing yourself?
A Recipe for Better Nourishment

1. Eat real food
As Americans have transitioned to a diet of mostly processed foods, the above illnesses linked with gut dysbiosis have become epidemic. You don't need to worry about measuring micro-nutrients to nourish your microbiome. Simply eat a wide variety of minimally processed, colorful, nutritious foods, such as:
Leafy greens
Seaweed
Fish, meats, and organ meats
Whole grains
Legumes
Vegetables
Fruits and berries
Nuts and seeds
Fermented vegetables and dairy
Full fat dairy products
2. Go wild
Wild foods are usually far more nutritious than their cultivated counterparts. Humans once had a 100 percent wild diet and now we eat almost none. It's easy to learn how to identify, forage, and prepare a few wild foods, some of which may be growing in your backyard:
Dandelion greens
Watercress
Purslane
Miner's lettuce
Nettles
Wild mustard
Blackberries
Wild strawberries
Elderberries
3. Eat local and seasonal.
Industrial crop types are chosen for shelf life, not nutrient levels. Local and seasonal foods are usually fresher and more nutritious. (Learn more about the benefits of seasonal eating in my blog post Local, Seasonal Foods Are Superfoods).
4. Cook
Preparing whole foods from scratch is the most nourishing way to eat. According to research conducted at Johns Hopkins Bloomberg School of Public Health, people who frequently cook meals at home eat healthier than those who cook less without even trying.
5. Stop the war on germs
Once you understand that you're tending an internal ecosystem that's vital to your health and well-being, it makes no sense to use products that claim to kill "99.9 percent of the germs" on your skin or in your mouth. Avoid antibiotics and antiseptics, including chlorinated tap water whenever possible. Also, limit your intake of processed foods, including sugar, high fructose corn syrup, artificial sweeteners, and food additives, which can contribute to dysbiosis when eaten in excess.
6. Move (a lot)
Just as a multivitamin doesn't stand in for real food, a burst of "exercise" doesn't stand in for frequent all-day movement. Here are some ways to make sure you're nourishing every part of your body with frequent movement:
Set a pomodoro timer, and get up every 30 minutes to move around for five minutes.
Replace car trips with walking. Aim for 10,000 steps a day.
Vary your sitting positions, and alternate sitting with standing.
Nourish your cells with nutrients by doing full-body tasks, such as housework, cooking, yard work, and gardening.
Try a full-body movement practice, such as Restorative Exercise, Essentrics, Dance, Qigong, Tai Chi, Yoga, or Pilates.
7. Relax
Chronic stress is damaging to your body and microbiome. Here are some ways to turn on your body's relaxation response, also called the "rest and digest" mode, and help your body absorb nutrients better: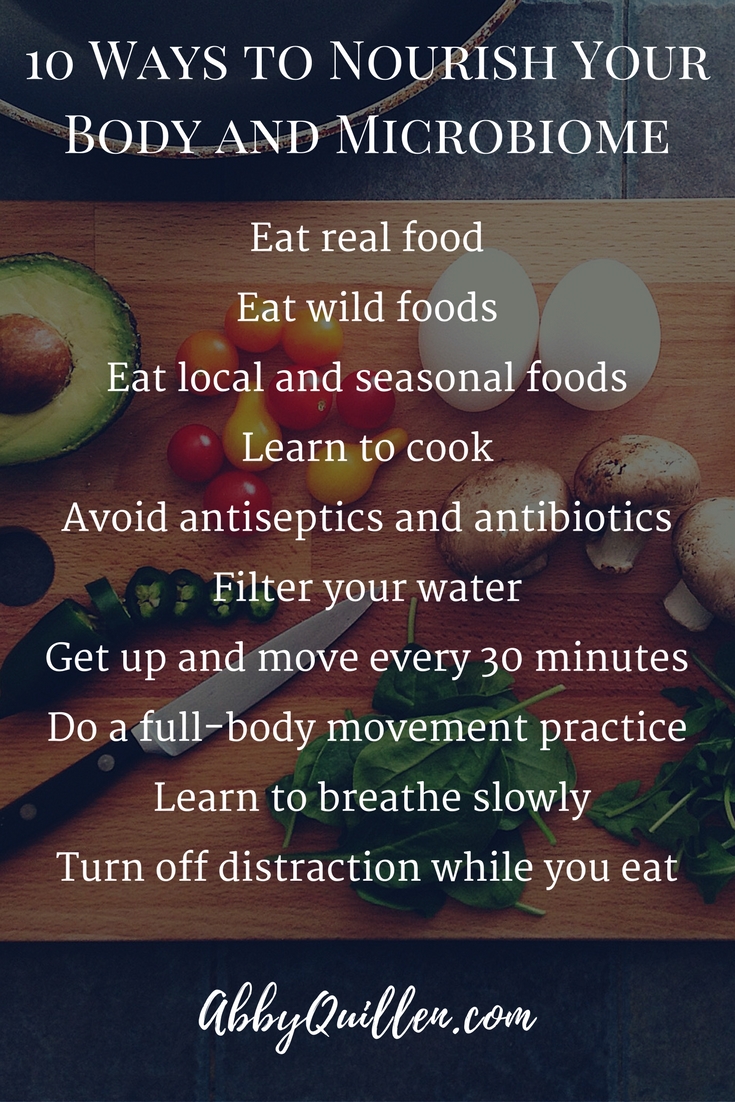 Focus on Nourishment
Elimination and cleansing diets are popular, but there may be another way to heal yourself. As many of our grandmothers knew, nourishment is the foundation for vibrant health and well-being.
If you liked this post, you may enjoy these related posts:
Save
Save
Save
Save
Save
Save
Save
Save