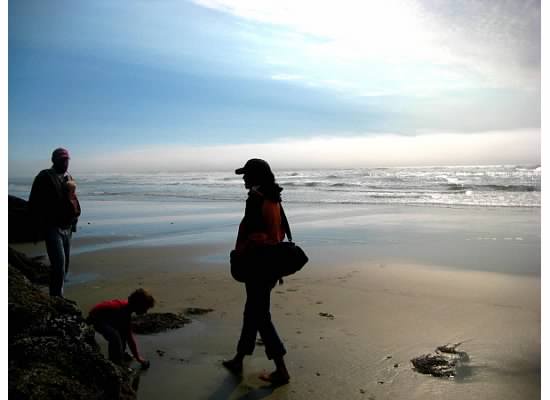 When my sister spent a year studying abroad in Iceland in 1993, we had little contact with her. We spent a lot of money to call each other occasionally on a land line that hummed and cracked, and we wrote letters, which took weeks to make it from the Colorado mountains to her new home on the Arctic Circle.
That experience would be radically different today. We could email, text, or Facebook each other. My sister could blog. We could video chat with her.
That's an astonishing transition when you think about it.
The technological progress we've seen in the last two decades – the Internet, digital cameras, mobile phones, streamed videos – is dizzying. I'm in unabashed love with so much of it. Even amidst the marketing and spam, some days Twitter feels like a giant free-form university with intelligent people from all sectors of life zipping information back and forth and bantering about ideas. I get giddy when I discover an interesting academic, thinker, or activist and find dozens of their interviews and lectures online. And the revolution that e-readers and tablets are bringing to publishing and academia is exhilarating.
This is an exciting time to be alive.
And yet, the amount of time we (and our children) spend interfacing with gadgets and screens makes me uneasy, and I know many people share my angst. Recently a blogger lamented that she's contemplating ditching her iPhone, because it's eating too much of her time, and dozens of her readers divulged that they're feeling the same way.  The same week a Lifehacker post and a Harvard Business Review article warned that our smart phones might be dumbing us down. Then a large study came out, finding that one in three people feel envious, lonely, frustrated or angry when visiting Facebook.
Despite its connecting powers, our technology often seems to disconnect us. It can encourage us to ignore our family and friends to engage with a group of folks we hardly know. And it can swindle hours that we may have once spent in nature, or moving, reading, writing, or making art.
I imagine most people, like me, are constantly trying to find a balance with family, work, creativity, and the distracting allure of our gadgets and screens.
I try to ask myself questions from time to time. How much and what types of technology help me be present with my friends and family? Stay intellectually stimulated? Focus on the things that matter? Conversely, which activities and gadgets make me feel distracted and unhappy, steal my focus with my kids and my work, and distract me from the creative projects that make me feel more alive.
I've yet to find a perfect balance. But I've come up with a handful of ways to be more intentional about the way I spend my time, and that's helped me  make peace with my angst about technology.  Here are a few of the tricks I'm using right now to try to let in the gifts of the information age, while keeping out the less than happy side effects that so often sneak in with them.
A digital sunset and a weekly digital sabbatical
We usually turn the computers and gadgets off around six, so we can eat together and wind down for bed. And we devote Sunday to family day. It's usually a lazy day, with leisurely hikes, library trips, afternoon naps – and no computers. In other words, it's everyone's favorite day of the week, and it's incredibly restorative.
The truth is, I don't really need Google on the go, because most of the time I'm home near my trusty desktop. (Yes, desktop. It's like those archaic days of the early 2000s around here.) So far, I've survived without apps and GPS. And while we're out and about, I'm able to focus on these quickly disappearing days when my kids are little and say and do curious and hilarious things. I have a feeling I will have to renegotiate this one in the future, but for now my not-so-smart phone offers more than enough distraction.
We have an old-fashioned TV that we hardly turn on, except for mid-afternoon episodes of Dora and Diego for four-year-old Ezra, who is a huge fan. (We've found a trick to allowing  a little bit of TV and avoiding the cajoling, begging, and tantrums that can come with it: we allow a certain amount at a certain time of the day, and we stick with PBS shows on DVD or Roku to skip advertisements.) As for the adults in the house, we enjoy a few shows, but we have little time to actually watch them in this season of our lives.
This groundbreaking technology allows you to write or jot down notes, without allowing you to click over and watch cute kitten videos on Youtube. One trick I've learned: when you get the urge to Google something or message or email someone, write it down. During a designated computer time, scan your list and decide what you really need to attend to. This  practice can improve your focus and be a huge boon to your productivity.
As my kids get older, I've found that background noise – radio, podcasts, or music – makes it difficult for me to be an engaged parent. I listen to a podcast for an hour a day, and we sometimes listen to music in the afternoons. Other than that, I shut off all the background noise when I'm at home with the kids, and I'm astounded by how much happier and focused that makes all of us.
Slow blogging and a social networking diet

Like its cousin Facebook, this blog can devour hours of my already spare work time. That's why I've transitioned to a less frequent posting schedule (generally once  a week on Mondays). And although I read and reflect on and appreciate every single comment you leave in this space, I don't always have the time to respond to each of them. Likewise, I only go on Facebook for a few minutes a few times a week. And I tweet four days a week for a half hour or less. I'm mostly okay with less blogging and social networking, because it means I get to spend more time in the here and now. And that feels like a good balance right now.
I'm curious, how do you feel about technology? Have you devised ways to be intentional with it? Have you found a good balance? I'd love to hear about it in the comments.
Save
Save
Save
Save