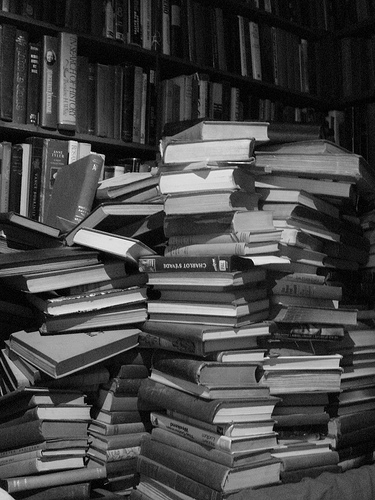 My husband and I don't collect many things, but our house is full of books. I love to read fiction, but I tend to collect more practical books, ones that I'll look at hundreds of times – almanacs,  reference books, plant-identification guides, cookbooks, and how-to guides. My husband's into the decidedly unpractical – first edition novels.
I spent many years working in libraries and bookstores; I loved being surrounded by books and people who love books. At the last library I worked in, I sometimes wandered the shelves in the afternoons as the sun streamed through the stained glass windows and just gazed up at all the books. Each represents months, years, or decades of brainstorming, writing, revising, editing, and proofreading; it seemed that any of them could alter your life, shift your viewpoint … change everything.
Here are a few of the non-fiction books I've found particularly thought-provoking over the years:
1. Material World: A Global Family Portrait by Peter Metzel and Faith DeLusia
A team of photographers traveled the world, got to know 30 different families in 30 different countries, and asked each family to pile all of their possessions in their front yards for a giant photograph. The result is a surprising and unforgettable book. It's 16 years old now, but I still pick it up all the time, study the photographs, scan the statistics, and read about the different families, and every time I learn something new.
2. Hungry Planet by Peter Metzel and Faith DeLusia
For this volume, Metzel and DeLusia photograph a week's worth of food bought or grown by 30 different families in 24 different countries. The photographs are accompanied by a detailed listing of the food; a discussion of how the food is raised and used; a variety of family photos; and a treasured family recipe. Like Material World, this is a book I read over and over again.
3. No Contest: the Case Against Competition by Alfie Kohn
Alfie Kohn argues that Americans have a difficult time seeing how competitive our society is, because we're like fish trying to come to terms with being in water. Kohn cites more than 100 studies showing that competition is not inevitable, that it doesn't make people perform at their best, that it undermines self-esteem, and that it damages relationships. He also offers ways that we might restructure our lives, classrooms, and society to encourage cooperation instead of competition. It made me take a critical look at the structured competitive activities in my life and my own inner competitiveness, and I came away feeling that both were often keeping me from reaching out, learning, and connecting with others.
4. Slow is Beautiful by Cecile Andrews
Andrews envisions that people can find more fulfilling lives through the "rediscovery of caring community, unhurried leisure, and life-affirming joie de vivre." I read this book years ago, but I still think about it often. It reminds me to slow down and think of joy, itself, as an important and worthwhile goal.
5. Your Money or Your life by Vicki Robin and Joe Dominguez
Dominguez and Robin encourage readers to think of money as something we trade life energy for. They lay out nine steps for readers to assess their finances and decide how much energy they need to spend earning money, with the goal of achieving financial independence. My family still has a long way to go toward financial independence, but this book and others helped me to think about earning and spending money in an intentional way.
6. Between Parent and Child by Haim G. Ginott
Ginott encourages parents to look at situations from their child's viewpoint and help him or her vocalize emotions. The book, itself, is a bit repetitive, but I found Ginott's advice incredibly helpful in communicating with my two-year-old. Tantrums and midnight wakings go infinitely better when I remember Ginott's advice; it helps me to get to the root of why my son's upset, help him vocalize his emotions, and reminds me to empathize with him. Ginott's approach almost invariably calms him down instantly. Amazingly, the book also has helped me to communicate more effectively with my husband. I've read heaps of books on communicating and attended various workshops on the subject at past jobs, but this book is the first I'd describe as truly helpful.
What books have you found particularly thought-provoking? Has a book ever changed your outlook on life? I can't wait to hear your suggestions.