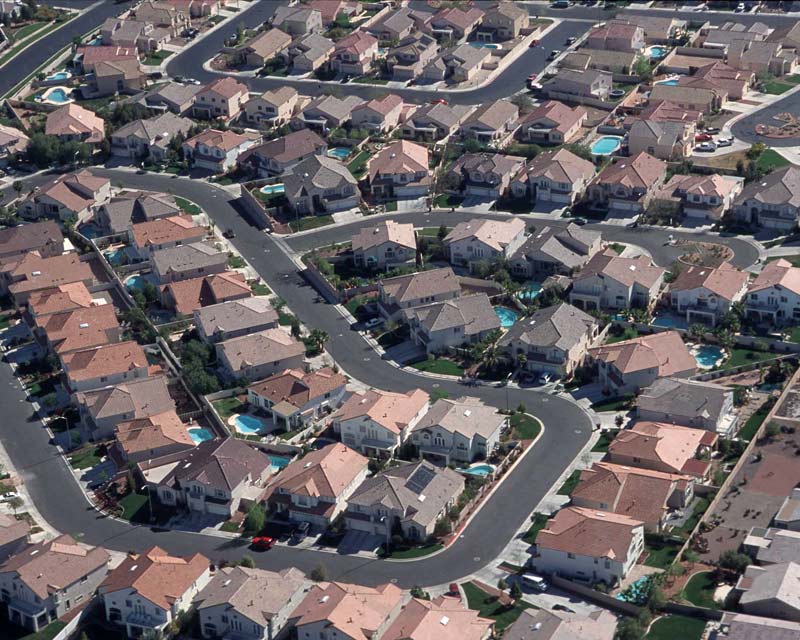 (The third in a series highlighting U.S. Movements to celebrate, support, and spread the word about.)
Suburban sprawl has been the dominant development pattern for the last fifty years. By 2000, more people lived in suburbs than in cities, small towns, and the countryside combined. Most of these suburbs were built after 1950 to accommodate the automobile, and they usually have the following familiar characteristics:
Low population density
Separate business and residential districts
Large lots
No sidewalks
Complex hierarchical street systems
Cul-de-sacs
Large parking lots
Shopping malls
Strip malls
Big box stores
Traffic congestion
These features – especially the curving dead-end streets, lack of sidewalks, massive parking lots, and the distance  between residences and businesses make it nearly impossible to walk or ride a bike in many suburbs.
The result? 41% of urban trips in the U.S. are under 2 miles, but 90% are made by car. Only 6% of trips are made on foot and 1% by bicycle (1995). Compare that with a few other countries:
France – 24% foot, 4% bike
Switzerland – 24% foot, 10% bike
Sweden – 29% foot, 10% bike
The Netherlands – 18% foot, 28% bike
The vast majority of Americans also drive to work. The average commute is 16 miles. Only 4% of Americans commute via public transportation, 2.93% walk, and .38% cycle.
Sprawl is hazardous to our health.
Suburban living undeniably has good points – big backyards, good schools, friendly neighborhoods, and roomy living quarters. But sprawling cities mean more driving and lead to:
Researchers Barbara A. McCan and Reid Ewing studied the health effects of sprawl by comparing the "sprawl index" to the health characteristics of 200,000 people in 448 different counties. They found that people living in more sprawling counties were more likely to
be physically inactive
have higher body mass indexes
be obese
suffer from high blood pressure.
2. Road rage
With everyone relying so heavily on cars, our roadways are packed and driving is often stressful. A third of drivers can be characterized as aggressive. 62% say they occasionally get frustrated behind the wheel, 40% admit to getting angry, and 20% confess to getting road rage at times.
Driving is one of the most dangerous activities we do each day. 6.5 million auto accidents occur every year in the U.S, and almost 40,000 people died last year in car crashes. That's 110 deaths every day, or one death every 13 minutes.
Cars are the leading cause of air pollution in the U.S. Long-term exposure to dirty air is known to shorten lives and contribute to cardiovascular and lung disease.
There's an alternative to sprawl.
New Urbanism is an urban planning movement that rose up in the early 1980s in reaction to suburban development.
The ten principles of New Urbanism are:
Walkability – Amenities are within a ten minute walk from home or work and streets are pedestrian-friendly.
Connectivity – Cities are on a grid to make walking easier.
Mixed Use and Diversity – Residential and business districts are mixed and appeal to people of all ages and walks of life.
Mixed Housing – Neighborhoods have different types and prices of housing.
Quality Architecture and Urban Design – Developments are beautiful, comfortable, and have a sense of place.
Traditional Neighborhood Structure – The center of town is public open space.
Increased Density – Everything is closer together to make walking more convenient.
Green Transportation – A network of trains connects neighborhoods, towns, and cities.
Sustainability – Developments encourage energy efficient living: less driving, more walking.
Quality of Life – Neighborhoods, towns, and buildings uplift and enrich people's lives.
New Urbanist developers have fought to change city codes that favor sprawl to build more walkable, livable communities. Critics have pointed out that some New Urban developments, like Plum Creek in Kyle, Texas; Kentlands, Maryland; and Seaside, Florida, are built on open space and thus add to sprawl, even if these communities are compact, mixed-use, and walkable.
But not all New Urbanist settlements are on open space. Many are suburban retrofits. Stapleton in Denver, Colorado was an old airport; and Belmar in Lakewood, Colorado and Mizner Park in Boca Raton, Florida were abandoned shopping malls.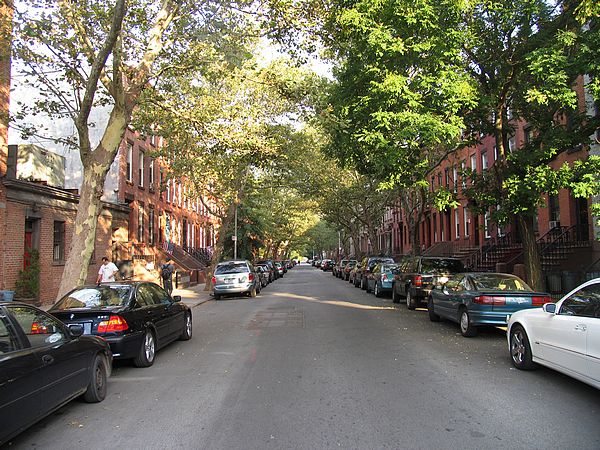 Suburbia needs a rehab
Time Magazine reports that "the American suburb as we know it is dying" because of the housing bust, and Christopher B. Leinberger asks if suburban McMansion developments will be "the next slum" in the Atlantic Monthly. 148,000 shopping malls and big box stores closed last year, including Circuit City, Gottshalks, and many Home Depots and Mervyns. When big retailers desert neighborhoods, they don't just leave giant, windowless, vacant buildings. They also leave lost tax revenue, fewer jobs and the potential for increased vandalism, more crime, and lower property values.
The residential districts of suburbs were also vastly overbuilt during the housing bubble. Arthur C. Nelson of the Metropolitan Institute at Virginia Tech, forecasts a surplus of 22 million large-lot homes by 2025, which is about 40% of those in existence today.
Remaking the abandoned miles of sprawl resulting from the unsustainable development patterns of the last fifty years will be a major challenge in the next few decades, and New Urbanist theorists, planners, and architects will undoubtedly be on the front lines.
If reshaping American cities to be healthier and less car-centric seems hopeless, look at Bogota, Colombia. In 1998, to fight severe traffic congestion and pollution problems, Enrique Peñalosa, the new mayor of Bogota, built 70 miles of bike paths; converted many streets into pedestrian malls; and built a relatively inexpensive rapid transit bus system. The results were quick and dramatic. The average commute time decreased 21 minutes and the air got significantly cleaner. The citizens of Bogota were so pleased that they voted to ban cars entirely from downtown during rush hour starting in 2015.
Read more about New Urbanism at Congress for the New Urbanism. Or grab a copy of Retrofitting Suburbia: Urban Design Solutions for Redesigning Suburbs by Ellen Dunham-Jones and June Williamson.
Are you a fan or member of a movement fighting for social, cultural, or environmental change? Leave a comment! Your movement could be highlighted in a future New Urban Habitat article.