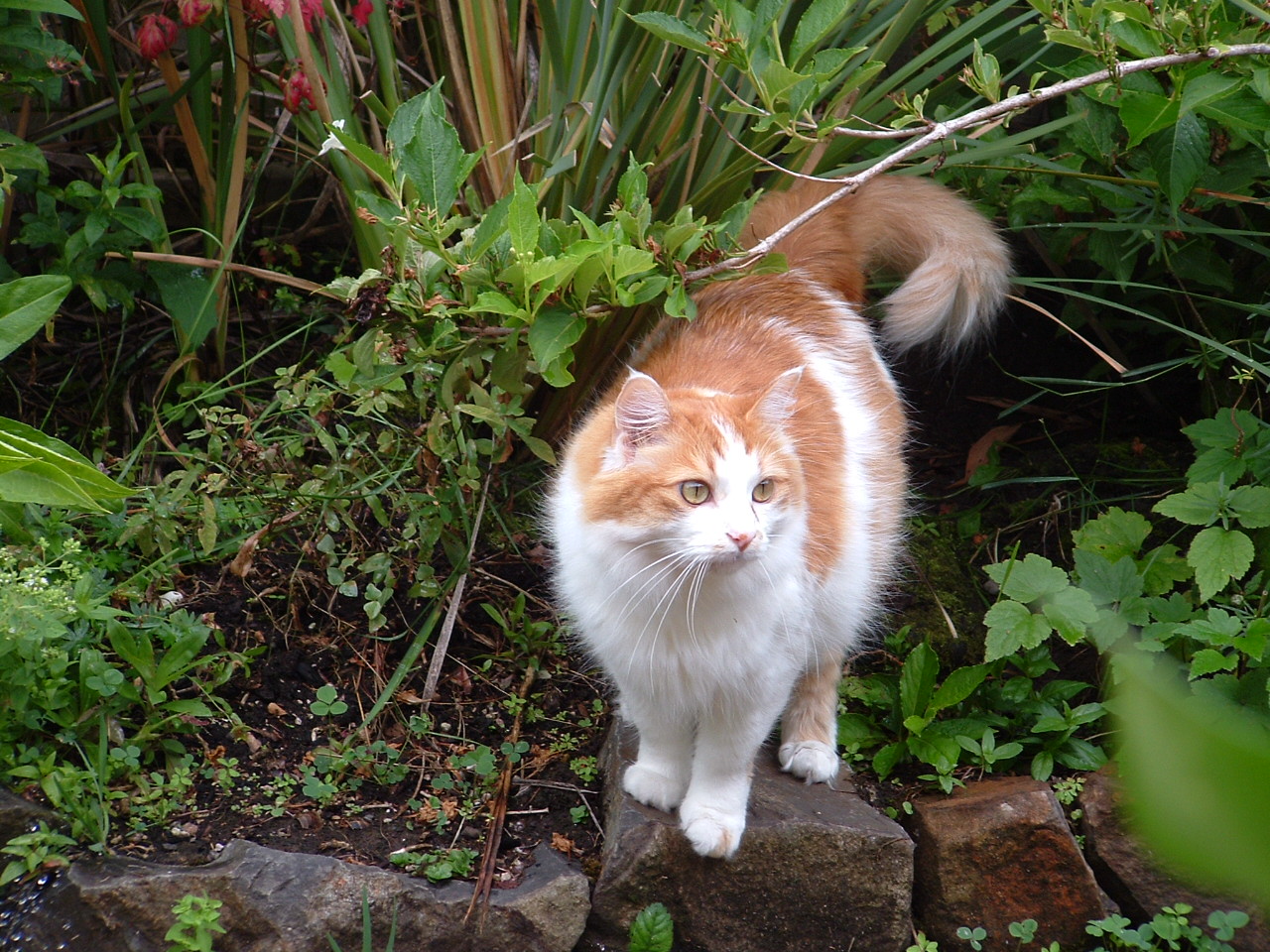 We've been doing a lot of grieving these last few days. Our kitty Ajax died on Thursday. He got very sick very suddenly when we were away for a couple of days for my birthday. Our cat-sitter called on Tuesday morning and said he wasn't doing well. By the time we got home an hour and a half later, he was in terrible shape. We rushed him to the vet, but their gallant efforts over several days did not save him.
Ajax came to us as a surprise eight years ago in those silent, somber days after September 11th when flags were waving on porch steps and Americans were walking around in a daze.
My husband and I had just adopted a female cat to be a companion for our three-year-old cat Charlie. We named her Clementine. She was a tiny calico, and we thought she couldn't be more than a few months old. But one evening a couple of weeks later, she started acting strange … and Ajax was born.
He was an adorable kitten – orange and white, with amber eyes and a giant nose. But three cats? We weren't crazy cat people. We'd definitely have to give him away.
Our Ajax was a charmer though. He didn't scratch, or bite, or hiss. He curled up in laps and purred. A cat-sitter later nick-named him Casanova, because he just seemed to specialize at loving. Of course, we fell for him right away. So did Charlie and Clementine. I've never seen three cats get along so well. They slept together and spent hours grooming each other each day. They were a trio.
Ajax spent eight years with us, moved across the country, then moved many more times after that. He was waiting at home when we got married. He watched from the living room as I gave birth to Ezra. Of all the cats, he was my companion. He sat with me after a bad day and curled up with me if I couldn't sleep.
Ajax had a hard year. He lost weight rapidly last September. When we took him to the vet, they diagnosed him as diabetic. We gave him twice-daily insulin shots to treat it. It was difficult to keep his glucose-levels regulated, and he was never quite the same cat he was before diabetes. He had ups and downs, and we had to nurse him back to health at least a few times. In the last few months he seemed fine though – roaming around, eating (he loved to eat), and chasing bugs. I didn't think twice about leaving him for two nights.
In all honesty, the ferocity of this grief has shocked me. When we adopt pets, we know we will probably outlive them. And when they get sick, we know we must let them go. But it doesn't make it easier.
Ajax was an unexpected gift, a fixture in our lives, our constant companion. We're all missing him terribly.
Rest in peace, sweet Ajax.
Save