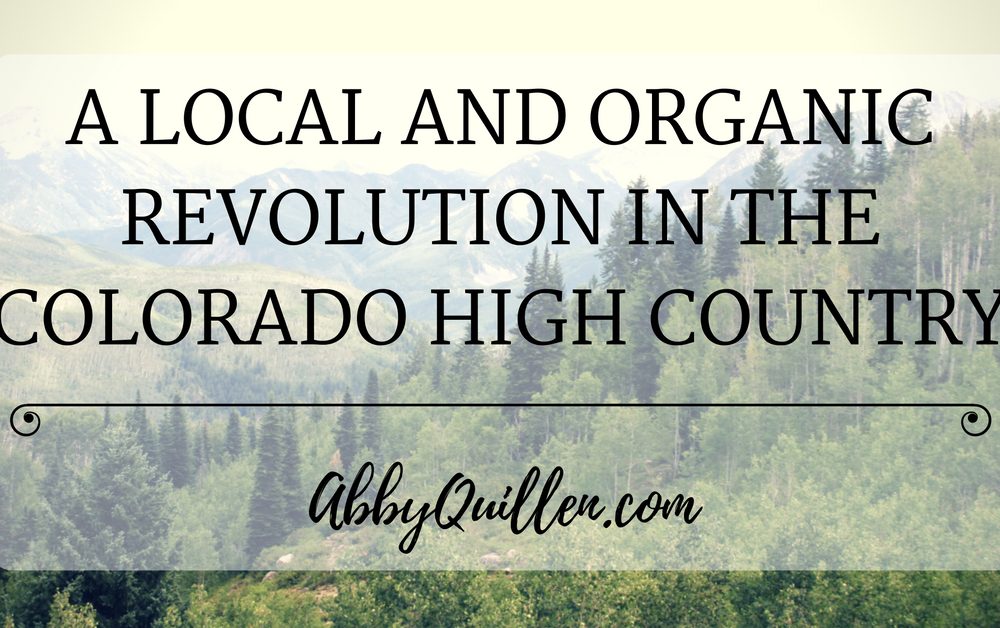 I lived in Central Colorado for more than half my life, and I loved many things about living there. I hiked the foothills most mornings and looked out on the valley where the massive Sawatch Range meets the Sangre de Cristos. I rode my bike and walked everywhere. I cross-country skied most weekends during the winter. The air was clean. I knew all of my neighbors.
But when I moved to Western Oregon, I was blown away by the food. Almost everyone has a backyard garden. The farmer's market goes from April to November, overflowing with local, organic produce, wild berries, mushrooms, nuts, honey, meat, and eggs. We can choose from a dozen or more CSA's. Small health food stores are open from early morning to late night in every neighborhood, stocked with affordable organic food – most of it local. I felt like I'd moved to Eden.
Well, Central Colorado is starting to feel a lot more like Oregon.
We first visited our friends Jon and Shannon and their two kids in Hotchkiss. They're homesteading about 80 acres of land there. They built a beautiful passive solar house, and they have a sprawling garden, a greenhouse, an outdoor kitchen, and a pond.
But Hotchkiss and Paonia are on the fertile Western Slope of Colorado – an area long known for its plump, juicy peaches. As we meandered through canyons and over mountains toward my hometown, I imagined we'd find it much the way we left it – a veritable food desert.
The mountain towns of Colorado were not true food deserts, a term coined to describe inner cities with no access to foods needed to maintain a healthy diet. When I was growing up there, Salida had three small grocery stores, and they were stocked with produce. But it was all trucked in from unknown locations thousands of miles away, and none of it was organic. When my husband and I moved back to the area for a year in 2001, we could sometimes find a few heads of locally grown, organic lettuce in the refrigerator of a tiny health food store.
But now Salida has a bustling farmer's market every Saturday, which is teeming with fruits and vegetables, all grown in the area. I ran into a friend picking up his CSA share – a huge box overflowing with lettuce, basil, zucchini, vine-ripened tomatoes, and more.
My friends Dave and Suzanne of the Morgan Center for Earth Literacy invited me to their property, where they're growing an enormous amount of organic produce in the shadow of Mount Shavano. They're raising chickens and stocking an old-fashioned root cellar with preserves. They sell produce, flowers, and Dave's homemade green chili and tortillas at the Saturday Market.
A store opened this year in downtown Salida selling cheeses and meats, fruits and vegetables – all grown and made in the region.
This part of Colorado is at 7,000 feet elevation and gets only about 10 inches of precipitation a year. It's a climate and terrain that can be challenging for gardening. (Just 60 miles away, Leadville's average growing season is 25 days.) So if the local, organic movement is revolutionizing this part of the world, I wonder what's happening elsewhere.
Is a local, organic movement sprouting where you live too?
Save