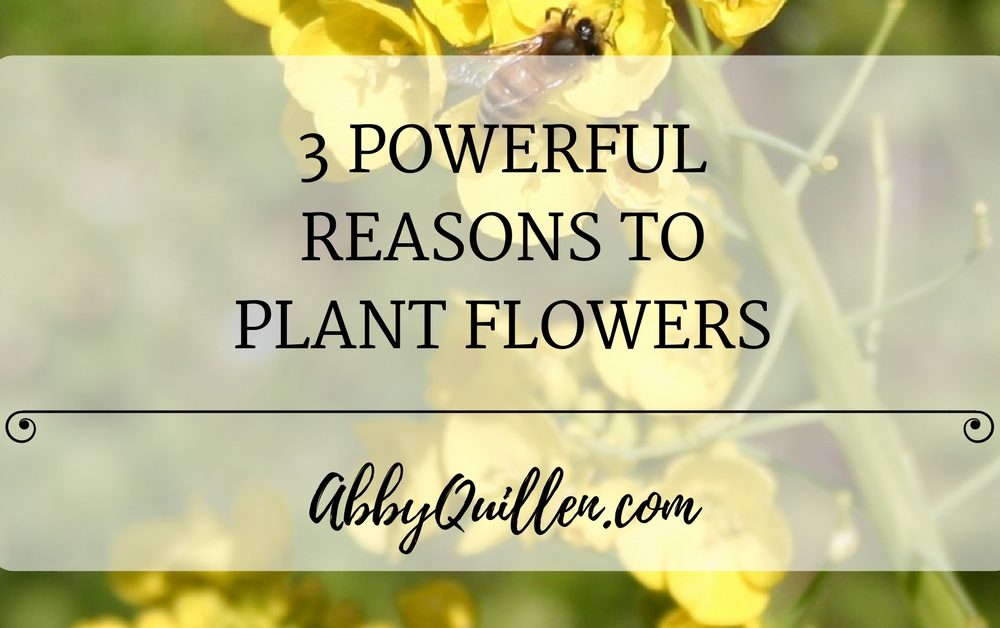 Whether they're in the ground, in window boxes, in pots, or in a vase on your living room table, there's such a thing as flower power.
Often the way our environment looks gets pushed to the bottom of our to-do lists. Yes, it would be nice to add a little beauty to our homes or yards, but there are more practical things to take care of, such as procuring food and keeping the children alive. For that reason, flowers once ranked low on my gardening to-do list. But I've changed my mind, and here's why.
Flowers are Healing

Flower power is real. Indoor flowers are linked with health, energy, happiness, and compassion.
Click To Tweet
In one study, people who have flowers in their living area reported less anxiety and worry, more energy and happiness at work, and more feelings of compassion toward others. In another study, surgical patients with flowers or potted plants in their environment had lower blood pressure and reported less need for pain medication, better moods, and less anxiety and tiredness than patients without flowers.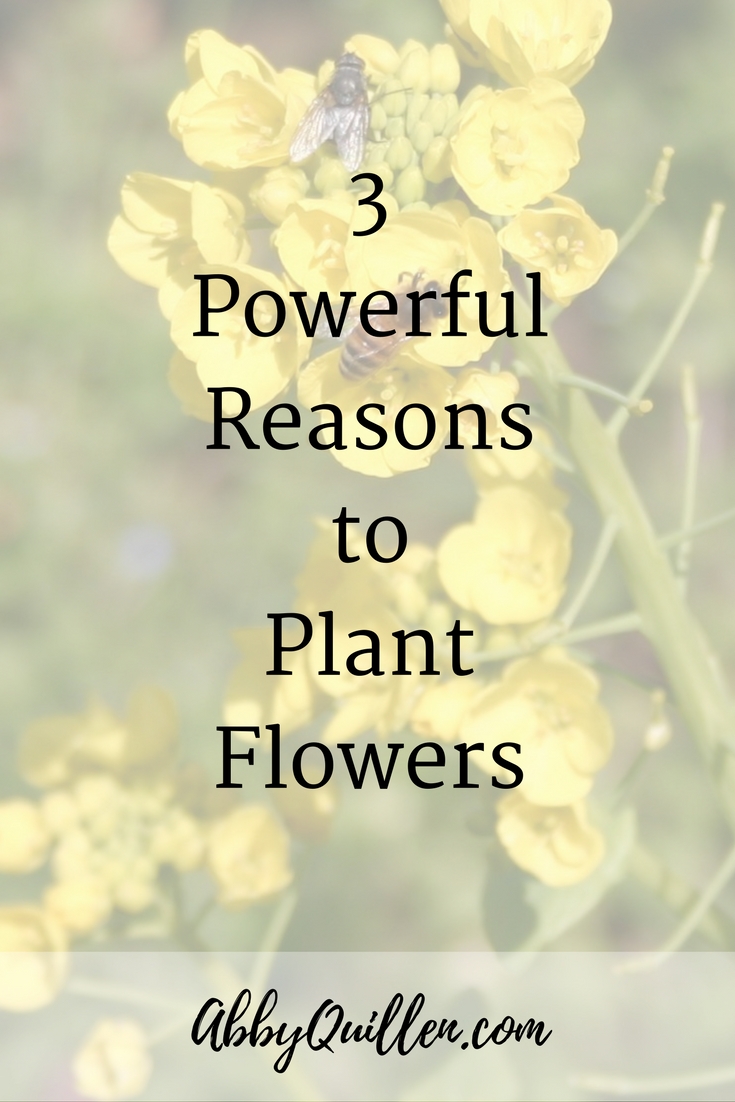 Flowers Breed Biodiversity

Moreover, planting flowers is a small way to begin to change the devastating story of species loss.
What do flowers have to do with species loss?
We're currently in a biodiversity crisis. (Biodiversity is the term scientists use to describe the abundant variety of life on Earth.) Alarmingly, the International Union for Conservation of Nature warns nearly a third of known species are threatened with extinction.
The culprit?
Us.
Especially our cities.
Urban sprawl is one of the leading causes of species endangerment; it contributes to the collapse of honey bee populations and the dramatic decline in Monarch butterfly colonies.
We need biodiversity. Plants and animals clean the air and water, create soil, pollinate crops, and recycle waste. It's our life support system.
Feeling hopeless yet?
Don't worry, I'm getting to the hopeful part.
A big part of the problem is that our cities are remarkably homogeneous. Ever wondered why nearly every city in the U.S. is covered in Kentucky bluegrass, even in the desert Southwest? We've transformed wide swaths of our country into relatively lifeless corridors, and pollinators have dwindling places to live, eat, and drink.
But we can make a difference. The Biodiversity in Urban Gardens (BUG) research project, a large-scale, eight-year British study, indicates what we plant in our yards and gardens can significantly impact the biodiversity of a city. By designing outdoor spaces to attract and accommodate birds, bats, bees, butterflies, beetles, and other small animals, we can create safe corridors for wildlife and protect endangered species.
Biodiversity depends on bugs.
Insects are food for a large number of species, including amphibians, reptiles, rodents, spiders, and birds. Plus, insects are pollinators, so they're necessary for plant biodiversity.
How do you feed and attract insects? First, put the pesticides away! Then, plant flowers!
That's right, those very same lifeforms that are healing to us can turn a lifeless lawn into a humming, buzzing, biodiverse place of life.
Don't underestimate flowers. They're powerful, healing, and essential for healthy ecosystems.
Click To Tweet
Flowers Help Your Vegetable Garden Thrive

If you have a vegetable garden and you're thinking the last thing you want to do is welcome more insects into your life, I can relate. But trust me, you want to plant flowers. Flowers have been shown to increase veggie yields and minimize pest damage because they attract beneficial pollinators and predators. In one study, farmers reduced cereal-leaf beetle damage in winter wheat fields by 62 percent by planting flower strips within rows of wheat. In another, farmers increased mango harvests by 40 percent when they planted native flowers nearby.
Flowers are Good for Everyone
When we plant flowers, everyone wins.
Humans have a disastrous track record when it comes to the environment, and it's natural to feel paralyzed, grief-stricken, and angry about it.
Meanwhile, let's plant flowers!
Welcoming biodiversity into yards and cities creates a welcoming space for all life.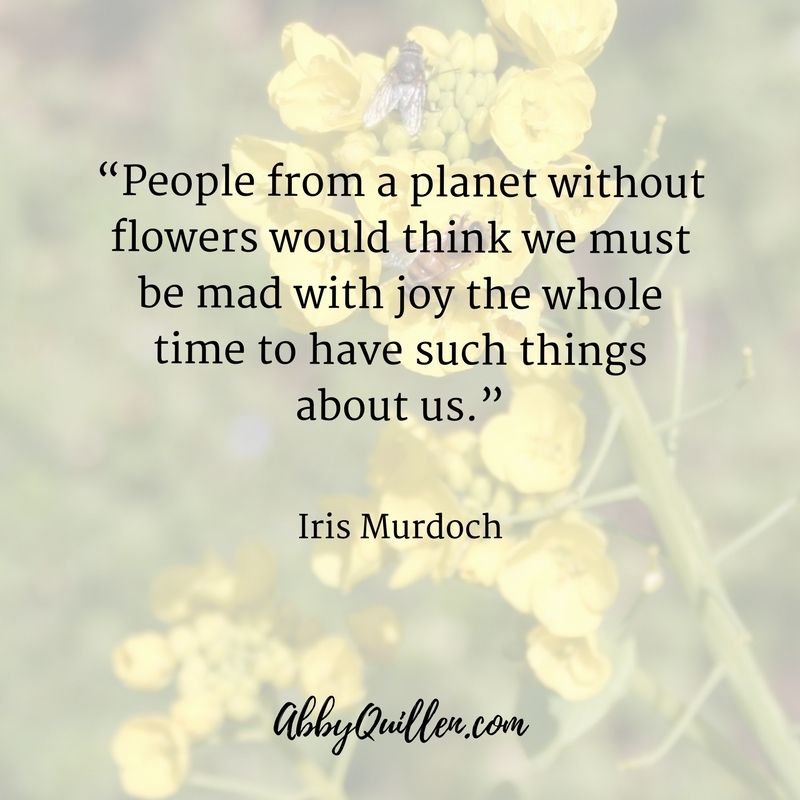 If you liked this post check out these related posts:
Do you have a flower garden? What kind of insects and wildlife do you see in your yard?
Save
Save