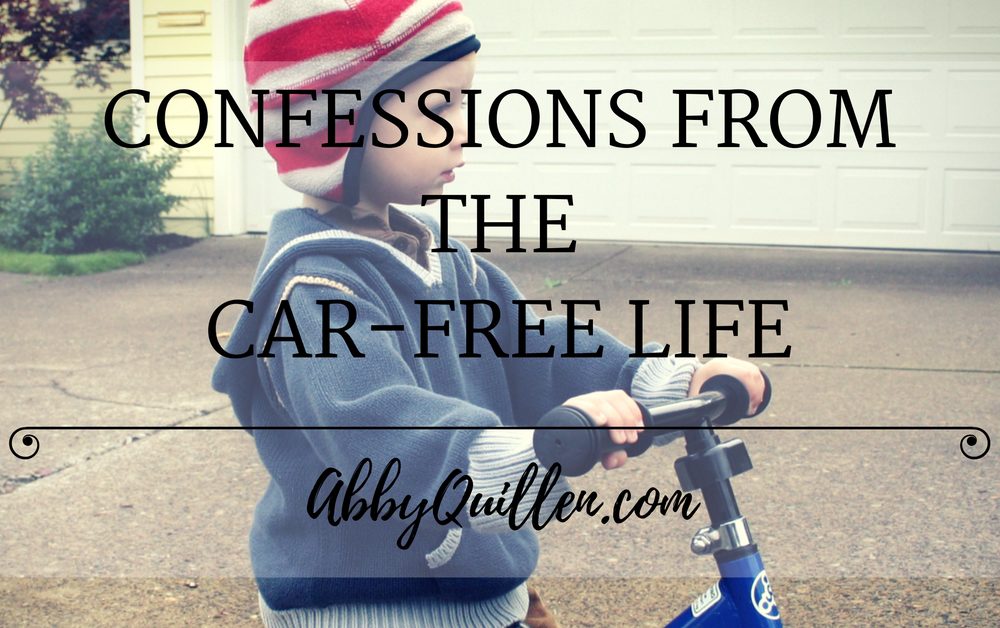 "Maybe we should get the car fixed," I mutter to my husband as icy rain pelts my face
It's a pitch-black, moonless evening. It feels more like midnight than 5:30. We're on our way to a birthday dinner for my husband's colleague, pedaling onto a bike bridge that crosses a busy street. Below us cars zooms past, a snake of yellow headlights.
"You're telling me," my husband says. One of his bike spokes broke earlier in the day, and his back wheel lets out a shrill whine every time he pedals.
Our two-year-old son seems oblivious to our harrowing adventure. "We're going to the pizza shop," he sings in his trailer. "The pizza shop, the pizza shop."
My family is in the midst of an experiment in car-free living. Our Isuzu Rodeo is still parked in front of our house, but we haven't driven it for three months. It needs major repairs, and we can't decide whether to invest money in it. Even our mechanic, who stands to gain mightily from us continuing to drive this car, looked hesitant when he told us about the repairs. "When things start going on these…" he said, trailing off and shaking his head. But we also don't want to take out a loan to buy a newer car right now.
So we're weighing the pros and cons of car ownership, and it occurred to us that we needed more information to aid our decision-making. After all, we didn't really know what it was like to live without a car. So we decided to try something I've long been fascinated by – car-free living.
I'm not fond of driving. I love to walk and ride my bike. I'd usually prefer to be in tune with the weather, the seasons, my neighbors, and my city, rather than experiencing them from behind a windshield.
Moreover, I don't like what car-dependence has done to our culture. I don't like gulping down smog. I hate the constant roar of traffic in our backyard. I hate sitting in gridlock. I don't care for behemoth box stores with sprawling parking lots. I'm saddened when I think about oil wars, spiraling obesity rates, growing social isolation, and thousands of people dying in unnecessary accidents every year.
But this night, as we lock our bikes to a rack and trudge toward the pizza shop, I want a car.
At the restaurant, our party is sitting at a long table in the corner. We cross the room. My husband's rubber rain pants squeak with every step.
Everyone stands up to say hello. Most of them are accountants. They're dressed up. I sit down across from a financial planner, who's wearing a white button-down shirt and ironed slacks, and stow my helmet under the table. I smile and try to pretend like riding a bike to a dinner date on a freezing cold, drizzly night is a perfectly normal thing to do. But, at the moment, I'm sure I look like my grumpy tabby cat when he comes in from the rain.
Our car-free experiment has actually been much easier than I imagined it would be. My husband is having a great time riding to work with a coworker. We figured out how to pick up chicken feed with our bike trailer. Most of the time we don't even think about the car. And that's the thing about car-free living, it's not that hard once you get used to it – if you don't let yourself think about how effortless it used to be to zip to the store or restaurant in a V6.
We munch on slices of pizza, and I make small talk with the financial planner. During lulls in the conversation, I dream about cars. Leather interiors. Seat warmers. Air conditioning. Cruise control.
After dinner, we bundle up and brace ourselves to head back out into the freezing rain. But it's not raining anymore. And after only a few minutes on my bike, the heaviness of my pizza dinner lifts. We glide down the bike path, our lights glittering in the darkness, and talk about the night.
As we pedal onto the bike bridge and soar down the other side, I realize that if we had a car, I wouldn't be here. I wouldn't be flying through the night. I wouldn't feel so light, so healthy, so free.
"Do you really want to fix our car?" I ask my husband.
"Well, it can't get much harder than tonight, right?"
I wonder if someday soon, we'll laugh at that question. But for now, our experiment continues.
Ever wanted to ditch your car? Read Confessions from the Car-free Life.
Click To Tweet
If you liked this post, read more of my popular posts about car-free living:
Do you live, or have you ever lived, car-free or car-lite? I'd love to hear about it.
Save
Save
Save