Friday, December 21, is the first day of winter and the shortest day of 2018 in the Northern hemisphere. Parts of Canada, Alaska, Norway, Sweden, Finland, Russia, Greenland, and the northern tip of Iceland will experience 24 hours of total darkness.
Winter was a long, dark, and difficult time for many of our forebears. The solstice provided an opportunity to celebrate the return of more daylight.
How did ancient people celebrate?
Gift-giving
The ancient Romans exchanged candles and other gifts during Saturnalia, their week-long solstice celebration.
Role-switching
In Persia, the king changed places with one of his subjects on the winter solstice, and the subject was crowned during an elaborate street party.
In Rome, masters and servants switched roles; senators wore simple, rather than elaborate togas; men sometimes dressed as women; fights and grudges were forgotten; and other everyday conventions were put aside.
Candle-lighting
In England and Scandinavia, people lit a Yule log, or oak branch, which was often replaced by a large candle that burned throughout the day.
Bonfires
Japanese Shinto farmers lit fires on the mountain sides to welcome back the sun.
Mistletoe and Evergreen Trees
The British Celts put mistletoe on their altars. And the Germans and Romans decorated their houses with evergreen trees, wreaths, and garlands as a symbol of life and renewed fertility.
Sun Festivals
The Hopi celebrated the return of the sun with ceremonies. Priests dressed in animal skins with feathers in their head-dresses to look like the rays of the sun.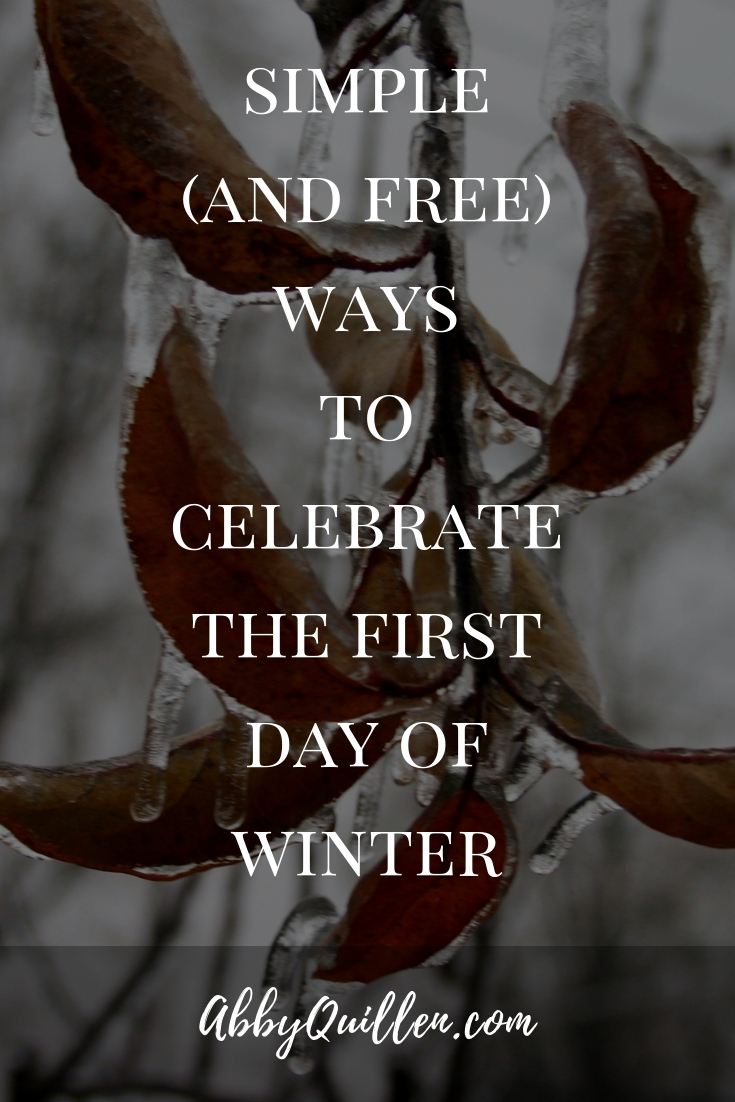 Why celebrate the first day of winter?
The holiday season is busy enough for most of us. Why add anything else to the to-do list?
Celebrating the first day of each season offers the perfect opportunity to:
Note the cyclical changes in the soil, sky, trees, plants, and wildlife.
Reflect on the lessons each time of year imparts. Winter reminds us of the importance of quiet, rest, and dormancy.
Learn about different celebrations around the world.
Celebrate! Seasonal celebrations are affordable, nature-based, and as easy or elaborate as you want them to be.
Be grateful for the gifts of food, family, and friendship.
The key to celebrating the first day of winter, when most of us are busy planning other celebrations, is to keep it simple, and choose traditions that give you time to relax and reflect.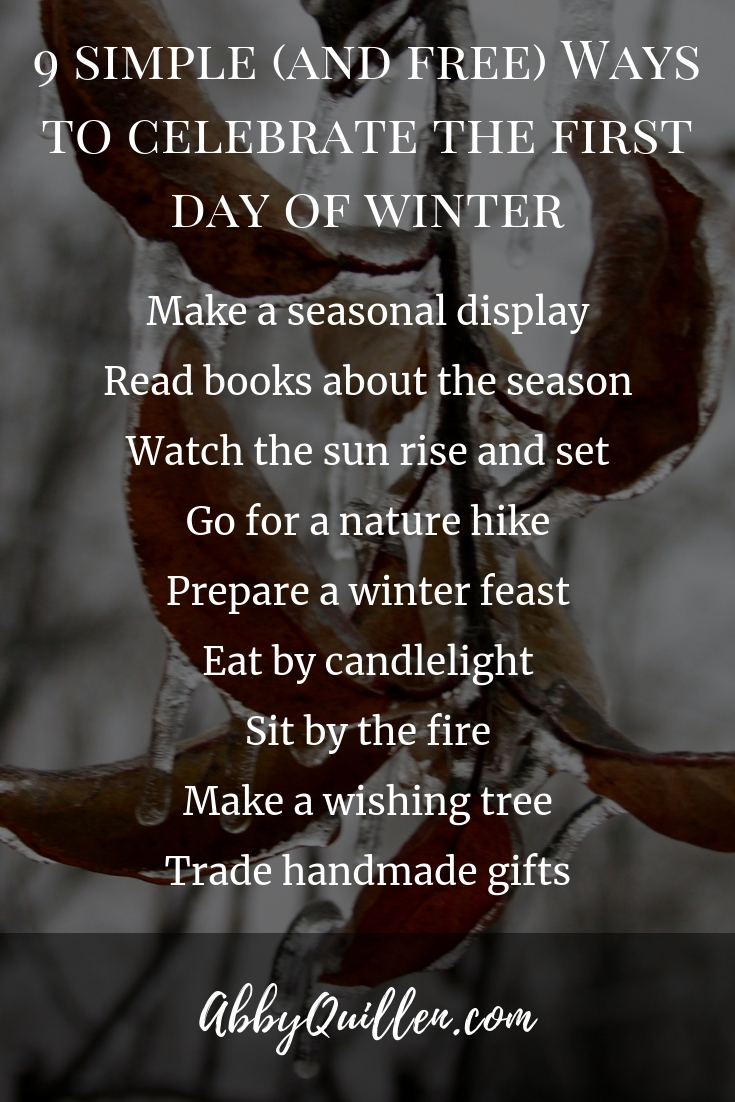 Simple (and free) ways to celebrate winter
Watch the sunrise and sunset. You probably won't even have to set an alarm. At our house, it will rise at 7:44 and set at 4:37 on Friday. (The good news is longer, brighter days are coming.) You can find out what time the sun will rise and set where you live here.
Take a hike, go cross-country skiing, or go for a walk and look for signs of the season. Listen to winter's music. Compare winter's textures: dry bark, soggy leaves, spongy moss. Notice winter's distinctive scents.
Find gifts for each other from nature. Exchange small handmade gifts. Make maple caramel corn for friends or neighbors. The key is to keep it simple.
Serve up your favorite winter crops: beets, winter squash, potatoes, onions, kale, cabbage, or parsnips. We're fans of stuffed squash and homemade sauerkraut this time of the year. Lighting candles can turn an ordinary meal into a celebration.
Spend some time relaxing together in front of the fire. Share one thing you've lost and one thing you've gained over the past year. Tell stories about your best and worst holiday memories.  Make wishes for the coming year. Reflect on the lessons of winter: the importance of rest, dormancy, and stillness.
The key to seasonal celebrations is to make them simple and relaxing. The last thing most of us need is another stressful winter tradition.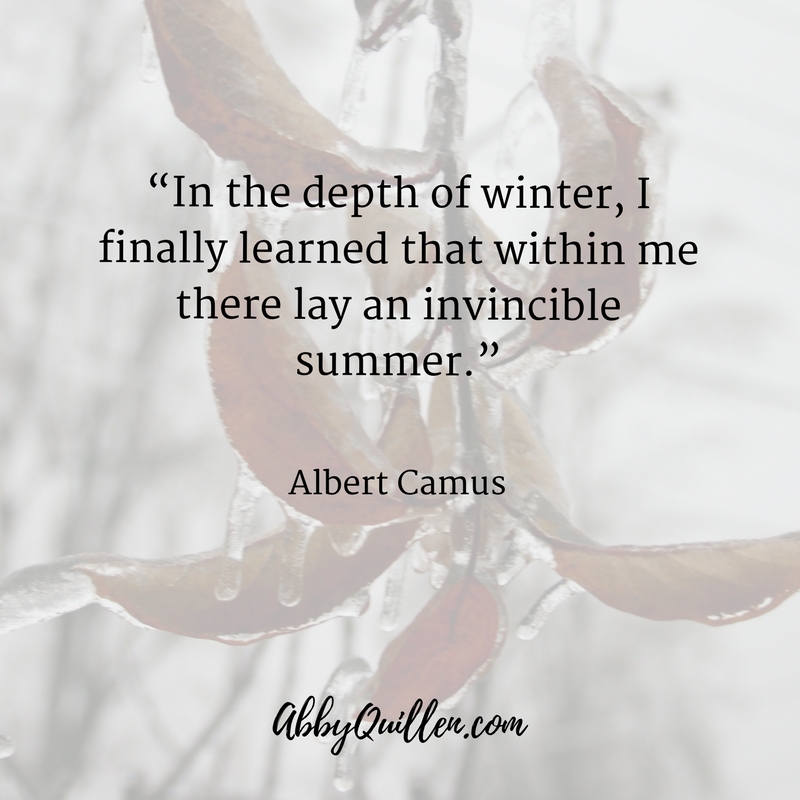 What's your favorite thing about winter? Leave me a comment. I'd love to hear about it!
(Editor's note: This is an updated version of a post originally published December 14, 2009)
If you liked this post, you may enjoy these related posts:
Save
Save
Save
Save