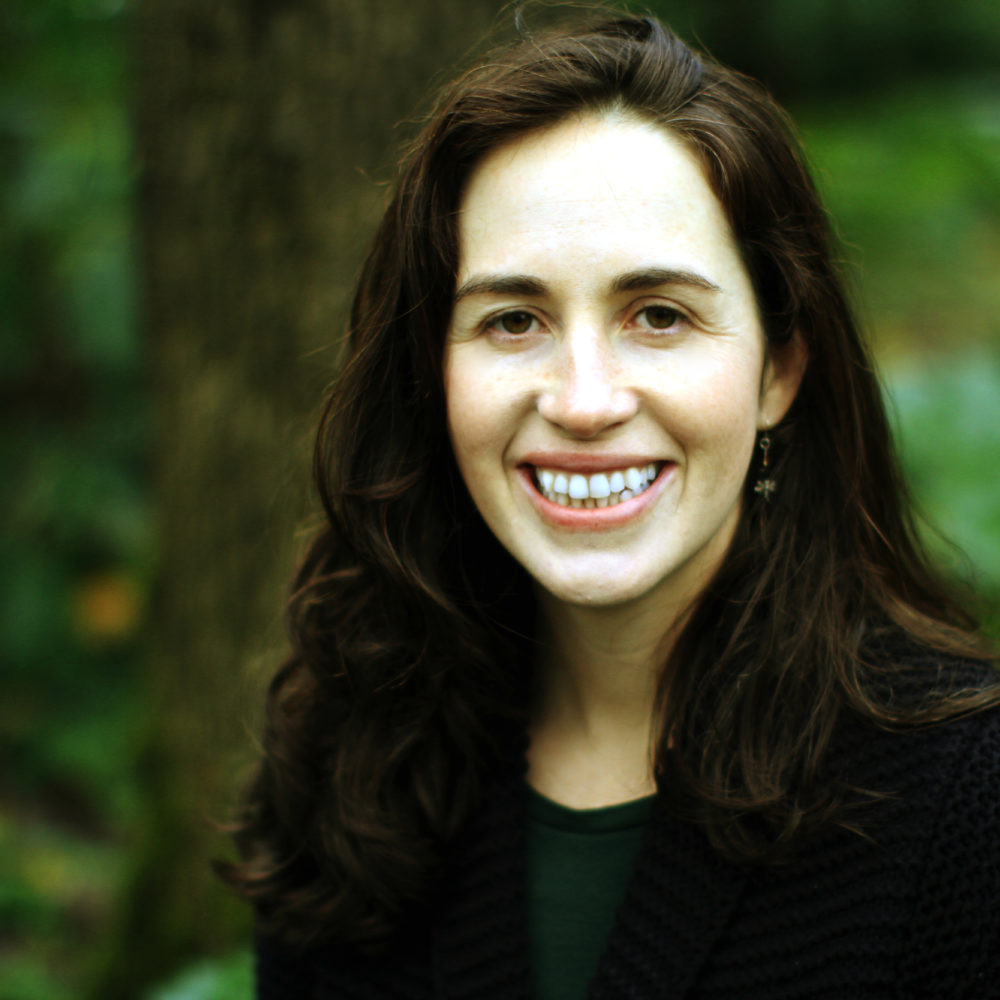 Hey there.
Thanks for visiting! I'm Abby Quillen. I'm a writer, and I live in Eugene, Oregon with my husband and two sons. I love helping people connect with nature and live healthier, more sustainable, and simpler lives.
I've written hundreds of blog posts and articles on these topics for dozens of publications, including The Christian Science Monitor, YES! Magazine, Prevention, Common Dreams, Nation of Change, Reader Supported News, The Daily Good, and Truthout. I also write for forward-thinking businesses and organizations.
But want to know a secret? Natural living didn't come naturally to me. Growing up in a small town in Colorado, my family hunted and gathered for food at our local Safeway. Our food was shipped from far away places and wrapped in cardboard and plastic.
My parents were freelance writers, who taught me plenty about the pros and cons of the Oxford comma and pitching a tent in the Colorado back country, but not so much about recycling, growing and preserving food, or making herbal remedies.
For as long as I can remember, I yearned to get my hands in the dirt and cook meals from scratch. In high school, while my peers were at the mall shopping for Guess Jeans, I read The Good Life by Helen and Scott Nearing and pored over Lodge Cast Iron catalogs, planning which skillets I'd buy someday.
I planted a potato in a Dixie cup in third-grade science and fell in love. Seriously. I slept with it next to my bed and cried when it withered. I planted my first herb garden in our backyard when I was in high school. Catnip was the only plant that survived. (Sorry about all the feral cats, Mom.)
After I left home, it took me a long time to get my hands dirty. Instead, I moved to the city to attend college. I didn't enjoy everything about urban life, but I loved walking and riding my bike to libraries, museums, bookstores, and cultural events.
I thought I'd move to the country at some point to live the simple life I dreamed of (and finally buy that cast-iron skillet). But when my husband and I started looking for our first house in 2008, we realized you don't need to go anywhere to live a simple, healthy, and sustainable life.
We bought a home on a quarter acre near the downtown of our small city, where we keep chickens, grow food, cook from scratch, make bread, ferment veggies, and ride our bikes and walk as much as we can. Meanwhile, we live modern lives and take advantage of what our city offers in the way of community and culture.
Maybe that's the kind of life you dream of?
In the last century, most of us have been disconnected from the land, from plants, and from our food. We've been taught our role is to be consumers, not producers. I'd argue, we suffer mentally, emotionally, and physically because of it. Sadly, the environmental consequences are even more dire.
Do you want more health and happiness?
Nurture your connection with nature. You don't need to go to a mountaintop (although that's fun too). Nature is the food you eat several times a day. It's your backyard. It's the hundreds of useful plants living nearby. It's the billions of microorganisms that share your body and environment. It's the natural rhythms of the planet and your body.
When you nourish your connection with nature, you nourish yourself.
But here's the reality: it can be tricky to learn skills that have been dormant for several generations. I've had my share of challenges. See gardening, years one through seven.
It's also a ton of fun and a satisfying way to live. And I'm here to help make sure your journey to a more healthy, sustainable, and simple life is a little less bumpy than mine was.
I'm a work in progress just like everyone else. But I've been on this journey for a while, and I'm a research junkie. Translation: I usually have 20 tabs open on my browser, and I read academic journals for fun.
I've spent years tracking down outside-the-box thinkers, practical knowledge, and tips for living the good life, which I love to share. And did I mention I love simple? Translating complex ideas and jargon is one of my favorite past times.
Are you new here?
You're probably in the right place if:
You want to learn to live a more eco-friendly life by gardening, eating real food, or cutting your family's food or plastic waste.
You're keen on improving your health by nourishing your body and microbiome with whole foods and natural movement.
You want to feel more connected to natural cycles and rhythms.
You're interested in the places where traditional wisdom meets cutting-edge science.
Your idea of high decor includes herb planters or Mason jars.
Sign up to receive regular doses of inspiration and practical know-how from me in your inbox, and you'll get my free ebook 5 Simple Steps to Less Stress and More Joy. (No spam ever!)
And check out my blog posts and published articles for inspiration and practical tips about:
Green living
Sustainability
Gardening
Health
Herbs
Growing food
Connecting with nature
Parenting
Sustainable business
(I also write fiction, and I've edited a couple of anthologies. You can find those here.)
I'd love to connect with you! Email me and find my social media links below. Connect with me on Instagram, where I often share pictures of my latest hike and adventures with my family.
Need a professional bio?
Abby Quillen writes about sustainability, gardening, green living, health, business, and other topics. Her work has appeared in The Christian Science Monitor, YES! Magazine, and in dozens of other publications. She lives in Eugene, Oregon with her family.