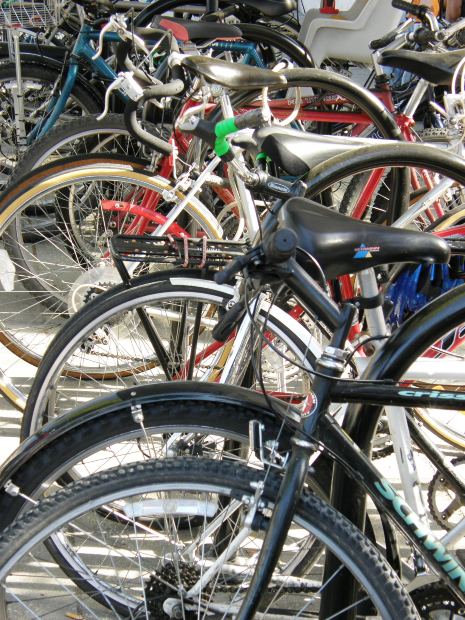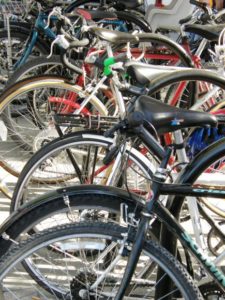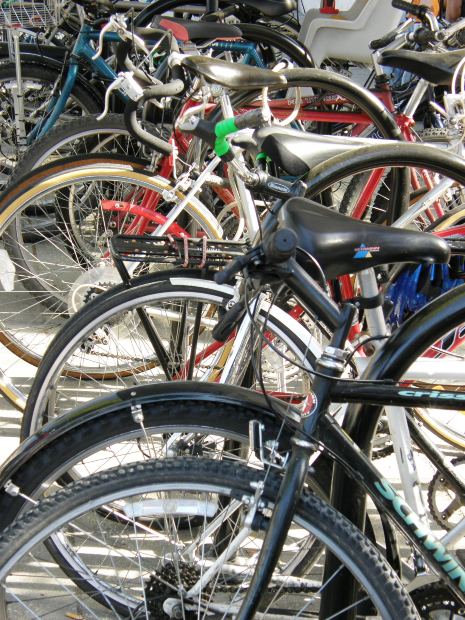 May is National Bike Month! Oh bikes, how I love thee. Let me count the reasons…..
10.  Bikes are quiet.
You'll never get woken up at midnight, because your teenage neighbor's revving his bike engine. And imagine if they replaced that freeway next to your house with a seven-lane bike path.
9.  You can cart groceries home on a bike.
Baskets are classy. Panniers are sophisticated. Cargo bikes are cool. And you can make your own hauling machine with a simple grocery cart.
8.  Bikes run on renewable resources – food, water, and human calories.
With the obesity rate hovering around 35%, quite a few of us have some calories to spare.
7.  Cycling tones your muscles, heart, and lungs.
The American Heart Association says all healthy adults ages 18 to 65 should get at least 30 minutes of moderate intensity exercise five days a week. With a bike, you can probably get that on your commute to work.
6.  Bikes enable you to smile and wave at your neighbors.
Social isolation is growing in the U.S. Let's get out of our cars and take a spin around our neighborhoods.
5.  Bikes are thrifty.
Check out Bike at Work's calculator to see how much cash you can save by dumping your car.
4.  Bikes emit zero pollution.
Automobiles belch out 333 million tons of carbon dioxide a year, not to mention nitrogen oxide, sulpher oxide, toluene, benzene, formaldehyde, and more. All bikes emit is a little human sweat.
3.  Once you've learned how to ride a bike, you never forget.
What can I say … it's like riding a bike.
2. Bikes are economical.
What's the world's most efficient mode of transportation? You guessed it – the bike. For energy burned per miles travelled, cycling is three to five times more efficient than walking. And it trounces running, driving a moped, taking a train, car-pooling, horseback riding, and swimming. (Sadly the least efficient mode of transport seems to be America's favorite – driving a car with no passengers.)
And finally, the ultimate reason I love the bicycle…..
1. Bikes took down the bustle and the corset.
That's right, ladies. The bicycle craze in the 1890s changed womens' fashion forever. Women abandoned their confining corsets and adopted what was known as common-sense dressing.
In 1896, Susan B. Anthony said, "I think [the bicycle] has done more to emancipate women than anything else in the world. It gives a woman a feeling of freedom and self-reliance. The moment she takes her seat she knows she can't get into harm unless she gets off her bicycle, and away she goes, the picture of free, untrammeled womanhood."
Let's celebrate our two-wheeled friends all month by taking them everywhere. Note that Bike-to-Work Week is May 11-15, and Bike–to-Work Day is Friday, May 15. Employers can find out how to participate here.
What are your top reasons for loving bikes? Comments are welcome!
Save