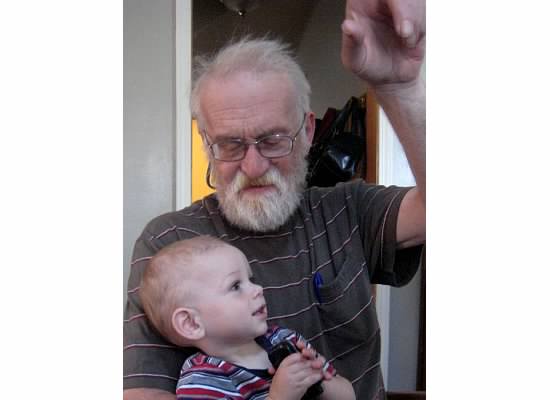 For the past few months, in addition to my usual writing and blogging, I've been working on a big project. I'm editing an anthology of my late father Ed Quillen's columns. Until he passed away in June, my dad was a regular on the op-ed page of The Denver Post for 28 years.
"He was a straight-shooter, a fact-checker, a proud wordsmith, a brilliant thinker, a touch of down-home Colorado the likes of which are rare, " the editors of The Denver Post wrote in a tribute to him.
It's true, my dad had an encyclopedic knowledge of Colorado and American history and lore, as well as a knack for humor and crisp writing. As he often liked to say, he also had a "bad attitude," which meant he had the courage to expose hypocrisy and divulge unpopular truths about politicians, cultural leaders, and social mores. That all adds up to some entertaining writing.
Here's an excerpt of a column he wrote about Earth Day in 2011:
I propose a yearly Binge Day.

On the other 364 days of the year, we would live simple green lives with local food and drink. We would walk, bicycle or ride public transit to get around. We would eschew gaudy imported novelties, fad electronics destined for quick obsolescence and other trashy food, goods and geegaws.

In other words, we would live prudently and sensibly, following old adages like "Waste not, want not." The global economy might contract on that account, but it seems to be doing that anyway.

On Binge Day, though, we could pig out on champagne and corn-fed prime rib. We'd rent a Hummer or an Escalade to drive to the shopping mall for an orgy of conspicuous consumption. We'd ignore the recycling bins and just toss our abundant trash in a barrel. And after the once-a-year Binge Day blowout, we'd go back to living sensibly.

Add it up, and Binge Day should be about 364 times better for the environment than Earth Day.
I wrote an essay about editing the anthology of my dad's columns for the January/February issue of Colorado Central Magazine:
Anthologizing
By Abby Quillen
My four-year-old son Ezra takes a bite of his toast. "What happens when we die?" he asks after he swallows.
I stare at my coffee. "I don't know."
"Grandpa knows," Ezra says.
I nod. We've had this conversation quite a few times in the six months since my dad died. It's like a skipping record, the same question again and again.
"Do you want to hear a story about Grandpa?" I ask.
Ezra nods, and I laser in on a Sunday night in February of 1985. My dad and his friend Allen Best sat at our kitchen table mapping out a backcountry ski trip over Old Monarch Pass. My sister Columbine, nine at the time, wandered in. "Why do I have to go to school tomorrow when you get to go have fun with a friend?" she asked. My dad shrugged and invited her to join them.
"So the next morning, I went to school, and Grandpa and Aunt Col drove up, up, up into the mountains," I tell Ezra.
He sets down his toast and stares at me, as if he senses the impending doom.
The trip started out as a gentle glide on slick snow. But when they dropped into the trees, they skied into 18 inches of fresh powder. My dad and Allen took turns breaking trail. As the sun went down and the moon rose, they were still slogging along, miles from the car they'd parked at the other side of the pass.
"Finally they stopped, too tired to go on," I tell Ezra.
His eyes are as round as our breakfast plates. "Did you and Grandma drive up, up, up into the mountains to find them?"
You can read the rest of my essay here.
Save